This will be the last meal plan I'll be posting, for a few months. On Aug 31st, I'm scheduled for an ostomy operation. Crohn's has destroyed my large intestine, and this is the only way that I may be able to live a somewhat normal and pain free life. So, the next few weeks will be quite stressful, with having to adjust to everything and learning how to eat again. Since I'll pretty much be on pureed foods for the first few months, I won't bore you with our meal plans, LOL. I plan on posting 1-2 more recipes before the 31st and a reminder post of my abscence.
I'm kind of winging this week's meal plan. We are due to do groceries, but I'm just not in the mood. With a full freezer and pantry, I'm pretty set for meals, but will be heading out to get a few fresh fruits and veggies. So here is what I have planned for the week, in no particular order.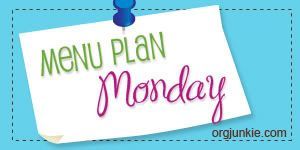 Sausages, with fried cabbage and potatoes
Beef with Egg Noodles and peas
Country Style Pork Ribs braised in pasta sauce, with spaghetti and a salad
Easy Peasy Chicken legs (new recipe) with mashed potatoes and corn
Bean and Cheese Enchiladas, with Spanish rice. Quesadillas and rice for the kids
Leftovers
Don't forget to pop over to OrgJunkie.com to check out tons of other great Meal Plans for the week!!