Good morning! I actually took the time to make a menu last night, once the kids were in bed. It wasn't too hard, since most of it will consist of using up leftover turkey, that I'm roasting for dinner tonight. It's a 13 lb bird, so I'm sure we will have plenty leftover for the week. I'm also only planning 6 meals, since we will be out of town from Sunday to Tuesday night. We will be attending a BBQ at my brother's, to celebrate my parent's 40th wedding Anniversary. DH and I are making the cake and I'll make sure to post pics. So, here is what we should be having this week, in no particular order: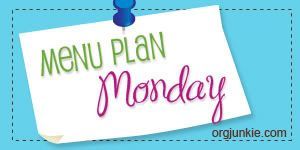 Turkey, mashed potatoes, veg and rolls
Sweet and Sour turkey balls, with fries and corn
Hubby's seafood fettuccine (lobster and shrimp in some sort of tomato sauce), salad and bread sticks
Turkey fried rice
Hot turkey sandwiches with peas
Leftovers
Make sure to head over to OrgJunkie.com, to check out tons of other great meal plans for the week.