In my quest to come out of my cooking rut, I found this recipe. The kids are really fond of pasta carbonara, but I was getting tired of making it, so I wanted to find a different pasta recipe, that uses bacon. This was really good. The smoky bacon paired well with the mushrooms and thyme. I really liked how the cream cut the acidity of the tomato. The kids loved it and had 2 servings each, plus some of the leftovers for lunch the next day. MIL enjoyed the leftovers as well and asked for the recipe. All in all, I think it was a hit and I'll surely be making this more often.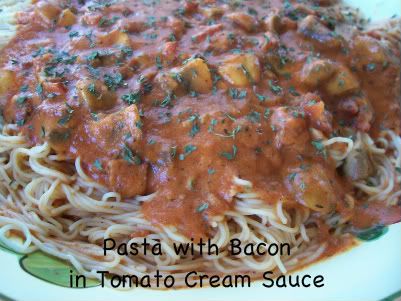 PASTA WITH BACON IN TOMATO CREAM SAUCE
Adapted from Cooks.com
1 med. onion, chopped
1/2 lb. ziti
1/2 lb. bacon
3 cloves garlic, minced or crushed
1/2 lb. sm. mushrooms
2 tsp. flour
1 (16 oz.) can crushed tomatoes
2 tbsp. tomato paste
1 1/2 tsp. thyme
1/4 tsp. pepper
1/2 c. heavy cream
2 tbsp. chopped parsley
Cook pasta as package directs, 10-12 minutes al dente.Meanwhile, in large skillet, cook bacon, crumble and set aside. Add onion, mushrooms and garlic to bacon fat until they start to brown. Add flour, cook about 1 minute. Add tomatoes and spices. Bring to boil. Then lower heat to simmer 5 minutes. Add cream and heat 1 minute. Toss with drained pasta, crumbled bacon, and parsley. Serves 4.
Cindy's notes
: I used a 14.5oz can to tomato sauce, instead of crushed tomatoes, so I omitted the tomato paste. I also used half and half, instead of the cream, with no problems. I served it on the kids favorite pasta, spaghetti.