One of my favorite things about summer at my parents house is their big patch of rhubarb, in the back yard. I have so many fond memories of sitting on the back steps, with friends, cups of sugar at hand and munching on rhubarb. As I got older, I started to appreciate rhubarb as more than a quick snack. My Mom would make this cake every summer and I never really was interested in it, until I was older. Now it's one of my summer must haves. Thankfully we live closer to my parents, so I can make this cake when ever I want, which makes me so very happy. This cake is more dense and chewy, than regular cakes. The batter is supper thick and the rhubarb add moistness. The cinnamon sugar topping helps balance the tart rhubarb and the meaty toasted nuts adds a wonderful savory note to the sugary topping. The kids, who will not touch raw rhubarb with a ten foot pole, with scarf down a piece of this cake in the blink of an eye. One of my favorite ways to relive my childhood memories.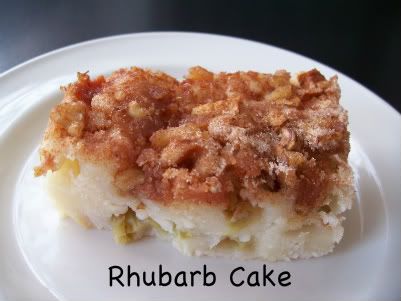 Rhubarb Cake
3 C chopped rhubarb
1/2 C shortening
1 1/2 C sugar
1 egg
2 C+1 Tbs flour
1 C buttermilk or sour milk
Topping
1/4 C sugar
1/2 tsp cinnamon
1/2 C chopped walnuts
Preheat oven to 350 degrees. In a medium bowl, cream together the sugar and shortening. Add egg and mix well. Add flour, alternating with milk and mix until just combined. Fold in rhubarb and pour into a lightly greased 9x11- inch baking dish. In a small bowl combine 1/4C sugar, cinnamon and walnuts. Sprinkle over cake batter and bake for 45 minutes.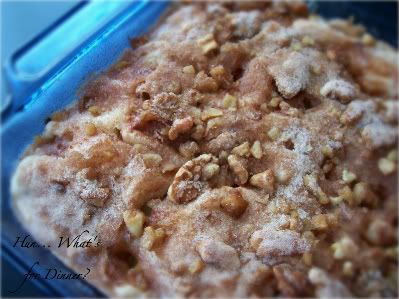 This post linked to