I've been finding it hard to keep up with my fruit and veggie intake, being on my post ostomy diet. I have to follow this diet for 6 weeks and it doesn't give many options for fruits and veggies, other than fruit juices and soups. So, I decided that Mom (and I) should attempt making some cauliflower soup. I love cauliflower and knew that a nice soup, would be a great way to get some in, without wreaking havoc on my tummy.
I just have to say that this turned out wonderfully. Rich, creamy and velvety smooth. The sour cream added a great subtle tartness, without it being overpowering. The kids didn't appreciate the soup, but Mom and I ate about half the pot, LOL. I garnished it with homemade garlic Parmesan croutons and a touch of cheddar cheese.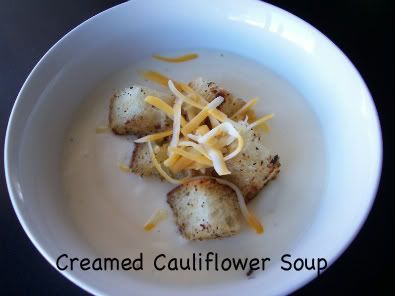 CREAMED CAULIFLOWER SOUP
1 lg. cauliflower, separated into flowerets
1/2 onion, diced
1/2 c. unsalted butter
3 med. potatoes (pared and diced)
2 c. milk
1 c. water
1 tsp. salt
1/4 tsp. ground pepper
1 c. heavy cream or half and half
3 tbsp. sour cream
Saute onions in 6 tablespoons of butter in a large pot until almost soft, about 4 minutes. Add cauliflower to pot. Cook covered, stirring occasionally over low heat until cauliflower is fork tender (about 20 minutes). Stir in potatoes, milk, water, salt and pepper. Cook covered until potatoes are fork tender (about 20 minutes).
Place soup half at a time in blender or food processor and blend. Transfer back to the pot. Stir in cream and sour cream. Heat over low heat stirring occasionally until hot (do not boil). Adjust seasonings. Keep warm.
Homemade Garlic Parmesan Croutons
1-2 stale sandwich rolls or 1/2 stale baguette, cubed
2 Tbs butter
2 Tbs olive oil
1 tsp minced garlic
2 Tbs Parmesan
In a large skillet melt butter with olive oil. Add garlic and let it infuse into the oil/butter for 1 minute. Add the bread cubes, tossing to ensure they are fully coated with oil/butter. Sautee, over medium heat, until golden and crisp. Toss with Parmesan while still warm.
This post linked to
Countdown 2011: Meatless Meals
Gooseberry Patch Round Up