I'm really enjoying having my Mom here to help out, after my surgery. Besides having an adult to talk to, during the day, Mom is also making all my childhood favorites. My latest request was for these cookies. I've never seen them anywhere else but my grandma's house, or our house. I'm not sure where the original recipe came from, but I do know that these are good cookies. Almost like a less sweet version of sugar cookie dough, then topped with a caramel fudge frosting. You could also make sandwich cookies, filling them with strawberry jam, but since seeds are out for now, we stuck with the frosted cookies. The kids are crazy about these and I must confess that I ate about a dozen of them, through out the day, yesterday. This is an old recipe and for some reason our ancestors refused to measure certain ingredients. So, there is no measurement for the flour. Add the flour by 1/2C increments, until the dough is smooth, but not sticky.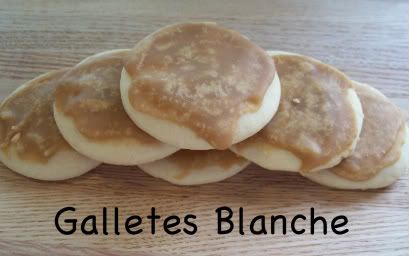 Galletes Blanche
1/2C white sugar
1/2C brown sugar
1/2C shortening
1/2C milk
1 egg
1 1/2tsp baking powder (heaping)
flour
In a mixing bowl, mix the first 4 ingredients, until well combined. Add the egg and baking powder and mix well. Add flour, in 1/2C increments, until the dough is smooth, but not sticky. Roll out onto a lightly flour surface, to about 1/4 inch thickness. Cut using desired shape ( we like round cookie cutters). Place on a cookie sheet and bake in a 350 degree oven, until golden (about 9-10 minutes). Cool and spread with frosting (recipe below), or spread with favorite strawberry jam and top with a 2nd cookie.
Caramel Fudge Frosting
1 1/2C brown sugar
4Tbs butter
6Tbs milk
Melt ingredients in a small sauce pan and bring to a boil, over medium low heat. Boil for 3 minutes, stirring constantly. Take off heat and cool, while stirring, until frosting is thick enough to spread. Spread on cooled cookies.