Good morning! We seem to have caught our first cold of the season. Hubby had it first, then my Mom and now Queenie and I have it. I just hate when the kids get sick, I feel so helpless. I hope we can rid the house of all germs soon. This week should be a quiet one. Mr.B goes to school today and Wed. Queenie has an appt at Sick Kids, to get a suspicious mole checked out, on Wed. Glad Mom is still here, since I'd like to be present at the appt, with Hubby. Other than that we will enjoy the beautiful fall weather and enjoy some delicious comforting food and desserts. Here is our menu, in no particular order. I'm carrying over a few meals from last week, that we didn't get around to.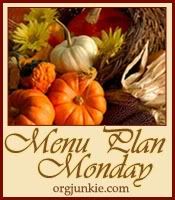 Oven Roast chicken legs and potatoes, with corn
Homemade pizza with a salad
Bacon and cheese stuffed shells (new recipe), with Ceasar salad and bread sticks
Pork Rib Roast with mashed potatoes and honey thyme butternut squash (new recipe)
Tacos (either chicken or beef), with rice and homemade guacamole
Leftovers
I also plan on baking muffins using pepper squash. Hope they turn out!!!
Don't forget to pop over to OrgJunkie.com, to check out tons of other great meal plans for the week!!