On a recent shopping trip ( yes, I was aloud out of the house, LOL), I purchased the latest issue of Taste of Home magazine. Now I've never bought this magazine before, but have tried some ToH recipes, with great success. So I was very pleased to see quite a few recipes, that I plan on trying. These muffins are a take on Sweet Potato Muffins, in the magazine. First, I didn't have any sweet potatoes and second, I had half a pepper squash I needed to use up. So I decided to try using the squash, in place of the sweet potato. I also had to modify the ingredients, to suit my post op diet requirements. The recipe changed so much, that I just decided to re write it, LOL.
The muffins are a bit dense, but I'm sure it's due to the fact that only 1/4 tsp of baking soda is used. Next time, I will increase the amount to 1 tsp and see what the result is. Despite them being dense, they taste great. They almost have a pumpkin taste to them. Sweet and warm, thanks to the cinnamon and allspice. A perfect fall treat!!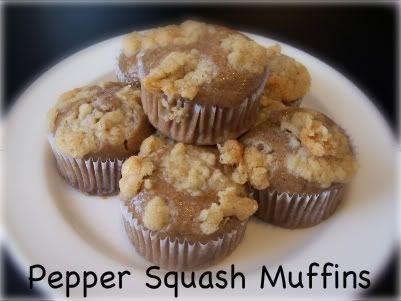 Pepper Squash Muffins
1 3/4 cup all-purpose flour
1/2 cup sugar
1/2 cup packed brown sugar
1 teaspoon baking powder
1 teaspoon ground cinnamon
1 teaspoon ground allspice
1/2 teaspoon salt
1/4 teaspoon baking soda
2 eggs, beaten
1 cup mashed roasted pepper squash
1/2 cup water
1/4 cup canola oil
3 tablespoons sweetened applesauce
STREUSEL:
2 tablespoons biscuit/baking mix
2 tablespoons quick-cooking oats
1 tablespoon sugar
1 tablespoon brown sugar
1-1/2 teaspoons cold butter
1/4 tsp ground ginger
In a large bowl, combine the first nine ingredients. In another bowl, combine the eggs, potatoes, water, oil and applesauce. Stir into dry ingredients just until moistened. Coat miniature muffin cups with cooking spray or use paper liners; fill two-thirds full. For streusel, combine the baking mix, oats and sugars; cut in butter until crumbly. Stir in ginger. Sprinkle over batter.
Bake at 350° for 20-22 minutes or until a toothpick inserted near the center comes out clean. Cool for 5 minutes before removing from pans to wire racks.