Well, Thanksgiving was 2 days ago and I must say, I'm still stuffed. Since Hubby had to work, I was in charge of cooking our Thanksgiving feast. No problem! My plan was to go simple. Turkey, a few sides and dessert. Simple right?? Well as Hubby and I were discussing the menu, the night before, he asked it I was making stuffing.
Stuffing, really?? I mean I don't even like stuffing, so why should I make some?
What do you mean, it isn't Thanksgiving without stuffing?
My Mom never made stuffing and we still were thankful for all the blessings in our lives.
Stuffing..... who needs it?!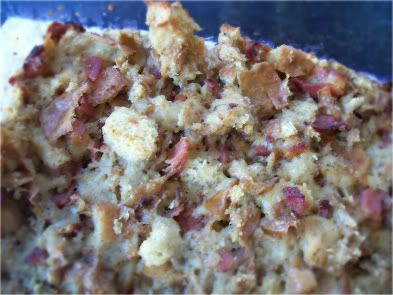 I'll tell you who needs it. Hubby does. He even convinced my nephew, that it wouldn't be Thanksgiving without stuffing. You want stuffing, you make it! That was my initial response. But since I wanted to eat at a decent time, I told him to leave me the recipe and I'd make it.
Do you think he left the recipe??
Um, no.... instead Hubby decided to call me from work and explain how to make his beloved stuffing. I listened with half and ear, since I figured I'm not that stupid, right? Well, I'm quite proud of how my darn stuffing turned out. The flavors were great and it wasn't too soggy and nice and crispy on the outside. The boys must have liked it too, since it disappeared quite quickly. So there, they got their stuffing and I didn't have to hear about how sacrilegious it is to even think of leaving it off any holiday table. (The full recipe is at the end of this post.)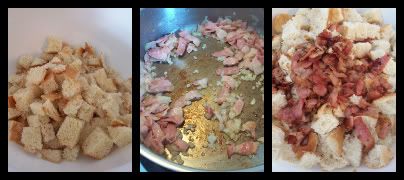 Throw some cubed stale bread in a large bowl. Fry up some chopped bacon and onions, until cooked through and onion are soft and golden brown. Throw that in on top of the bread.
Add the sage, celery salt and pepper to the bowl and slowly add chicken broth, stirring as you go. You want to moisten the bread, without drenching it. Transfer it to a baking dish, cover with foil and bake at 375 degrees, for 45 mins to 1 hour.
Bacon and Sage Stuffing
4 C stale bread (use what ever you have on hand, I used leftover sandwich rolls)
1/2 lb bacon, chopped
1 small onion, chopped
1/4-1/2 tsp sage (depends on how much you like sage)
1/2 tsp celery salt
1/4 tsp fresh cracked pepper
chicken broth (I'd say anywhere from 1/2 to 1 C)
cooking spray
In a large skillet, start to brown the bacon. Once it's about cooked through, add the onion and cook until soften and golden brown. Meanwhile, cut the bread into 1 inch cubes and throw it into a large bowl. Once the bacon and onion are cooked, transfer them to the same bowl as the bread. Sprinkle with sage, celery salt and pepper. Pour in chicken broth, mixing as you go. Add just enough to moisten the bread, but not soak it. Taste for seasoning and adjust if needed. Transfer to a baking dish, sprayed with cooking spray. Cover with foil and bake for 45 mins to an hour at 375 degrees.
This post linked to
Tasty Tuesdays
Tempt my Tummy Tuesday
Tuesday Night Supper Club
What's on the Menu Wednesdays
What's Cooking Wednesdays