Squash. Those cute little gourds that fill grocery store shelves, this time of year. So many to choose from, so why do I by-pass them like the plague? Let's face it, growing up, my Mom never cooked squash. Was it even popular back then?? When I met Hubby and we both worked in the same restaurant, he would make this recipe for Thanksgiving week. The customers went wild over it and I couldn't understand why. Then I tasted it.
Creamy
Salty
Sweet
Bacon
Need I say more?
Over the years, this was one fool proof way of getting me to eat squash. Since then, my palate has matured and I've enjoyed other varieties of squash, but this remains my favorite. I was lucky enough to be in the kitchen one day, while Hubby was making these little beauties and took mental notes. A week later, with my girlfriend coming for dinner, I thought I take the chance and make them. She was also a co-worker at our love restaurant (where we fell in love), so I was hoping not to screw them up. After all, Hubby was sort of a God, while he worked there, LOL. I passed the test and was told they tasted exactly the same as the good ole days, so I'm proud to share this wonderful recipe with you today.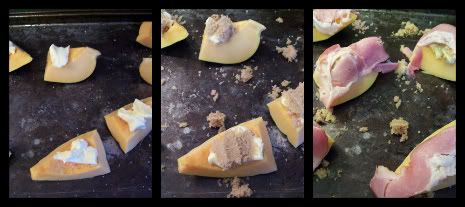 Cut the squash into 16th. Top each piece with 1 tsp butter, salt, pepper, 1 Tbs brown sugar and 1/2 slice bacon. Sprinkle again with brown sugar, salt and pepper. Bake in oven, until bacon is cooked through, about 20-30 minutes. (full recipe to follow)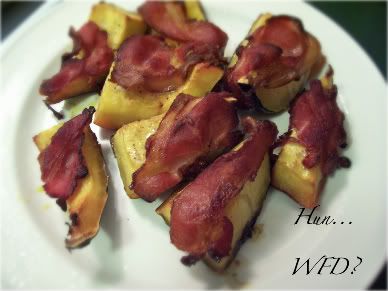 Candied Bacon Pepper Squash
1 pepper/acorn squash
16 tsp butter or margarine
16 Tbs brown sugar
8 slices bacon
salt and pepper
Take the squash and cut it in half. Cut each half into quarters and cut each quarter in half. Place squash skin side down on a foil lined, rimmed cookie sheet. Dot squash with 1 tsp butter, season with salt and pepper and top butter with 1 Tbs brown sugar. Cut bacon in half and place a half slice, lengthwise, on top of brown sugar. Sprinkle the bacon with a touch more brown sugar, salt and pepper. Bake in a 350 degree oven, until bacon is cooked through, about 20-30 minutes.
This post linked to
Friday Favorites
Saturday's Party
Days of Thanksgiving Holiday Party