It was cold and rainy. I didn't want Mr.B sitting mindlessly in front of the TV all day, so I dug out our Disney cookbook and asked him to pick a recipe, that he'd like me to help him with. Of course chocolate chip cookies won, LOL. We set out into the kitchen, to get all our needed equipment and ingredients. Then we went to work. Mr.B poured and measured, stirred and cracked eggs. He really enjoyed being the chef, while Mommy stepped in when needed. I liked that he didn't question the ingredients. It's not everyday that you find yogurt and ground oats in chocolate chip cookies. He was so proud of himself and eagerly awaited the baked cookies to cool. One bite is all it took and he gave them a huge thumbs up. I was surprised that the oats and yogurt didn't compromise the authentic chocolate chip cookie taste. They are a bit more dense and chewy than traditional CC cookies, but taste great none the less.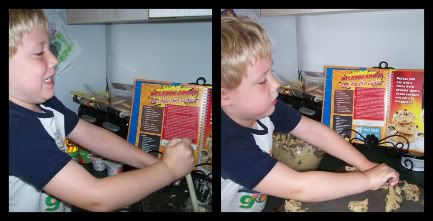 I have to admit that I'm a little OCD and controlling at times (really? no way...). I like that letting the kids cook with me, helps me let go a bit. Yes, flour ends up all over the counter and the floor. Yes, egg shells end up in the bowl, but that is why we use a separate bowl, to crack the eggs in. The look of sheer joy and pride on my children's faces makes any mess, big or small, oh so worth if. Plus, I figure if they start now, they'll be able to cook for me in no time, LOL. So get in the kitchen with your kids and make not only great food, but great memories as well.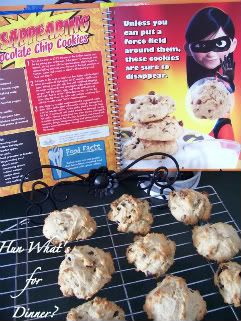 Disappearing Chocolate Chip Cookies
Adapted from Disney's Magic Kitchen Cookbook
Unless you can put a force field around them, these cookies are sure to disappear.
-Violet Incredible
1 C rolled oats
1/2 C butter softened
1 C packed brown sugar
1 tsp baking soda
1/4 tsp salt
1 C plain low fat yogurt
2 eggs
1 tsp vanilla
2 1/2 C flour
1 C mini semisweet chocolate chips
1. Turn on the oven to 375 degrees. Put oats in a shallow baking pan. Put baking pan in the oven. Bake about 10 minutes or until toasted, stirring once with a wodden spoon. Use hot pads to remove baking pan from oven. Put oats in the food processor or blender. Cover and process or blend until oats are ground. Save until step 2.
2. Put butter in a large mixing bowl. Beat butter with electric mixer on medium high speed for about 30 seconds. Add brown sugar, baking soda and salt. Beat until combined, stopping occasionally and scraping the sides with a rubber scraper. Add the yogurt, eggs and vanilla and beat until combined. Beat in as much of the flour as you can with the mixer. Stop the mixer. Stir in the oats and any remaining flour with the wooden spoon. Stir in chocolate pieces.
3. Drop dough by rounded teaspoonfuls onto the ungreased cookie sheet. Fill the cookie sheet with mounds of dough, leaving about 2 inches between cookies. Put the cookie sheet in the oven. Bake for 9 to 11 minutes, or until the cookie bottoms are browned. Use the hot pads to remove the cookies from the oven. Use a wide spatula to transfer the cookies to a wire rack; let cookies cool. Repeat with remaining daugh, letting cookie sheet cool between batches or using a second cookie sheet. Turn off oven.Makes about 60 cookies.
Cindy's notes
: we used vanilla yogurt, since it's what we had on hand. We also made them bigger, so we got about 36 cookies.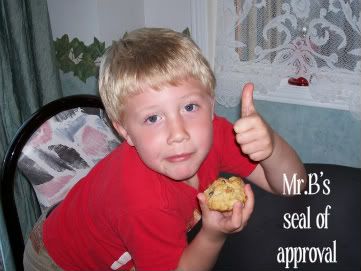 Linking this post to