A few months ago, while at the Farmer's Market, Mr.B tried some goat cheese, on a cracker. He claimed he liked it and has been asking us, why we never buy it. The truth is we do buy it; DH makes a wonderful roasted red pepper hummus, topped with herbed goat cheese. The thing is, he usually makes it for him and me, after the kids go to bed, LOL.

Not because we don't want to share, just because we were certain that the kids wouldn't like hummus. A theory that was debunked last month, when Queenie was found helping herself to Hubby's hummus and pita chips, while he was getting her a drink. (She's sneaky that way...)


So, back to the goat cheese. I had decided to try this recipe, since it fit into my restricted diet. Plus we love pizza; and a calzone is just an inside out pizza, right? I thought this would be a great way to see if Mr.B really likes goat cheese or not.
The verdict is...... not in this dish, LOL. It received one thumb up and one thumb down, then Mr.B decided to go for the regular cheese and pepperoni calzone.
Hubby and I, on the other hand, loved this. The tangy-ness of the goat cheese, the saltiness of the prosciutto and the pungent taste of the thyme, went so well together. It was creamy, ooey, gooey deliciousness! I'm not fond of refrigerated tube pizza dough, so I made my own (
Master Pizza Dough
), rolling it into a rectangle and following the recipe from there. Mini versions of these, would be so awesome for cocktail parties.
Mix cheeses, prosciutto, garlic and thyme in a bowl. Roll out dough, into a large rectangle, on cookie sheet. Mound filling, in a strip on one side of dough, leaving a 1-inch border. Fold dough over, crimp edges and tuck in corners, to form a half circle. (Full recipe to follow)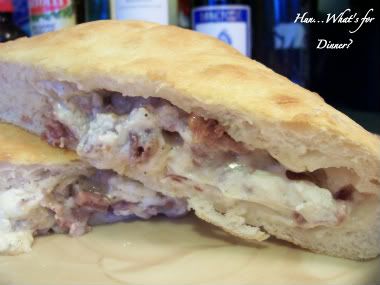 Double-Cheese and Prosciutto Calzone
Adapted from Bon Appetit~ Fast Fresh Easy Cookbook

2 cups grated mozzarella cheese (about 8 ounces)
3 1/2 ounces soft fresh goat cheese, crumbled
2 ounces prosciutto slices, chopped
2 1/2 teaspoons chopped fresh thyme
1 garlic clove, pressed
1 13.8-ounce tube refrigerated pizza dough
Extra-virgin olive oil

Position rack in middle of oven; preheat to 425°F. Toss first 5 ingredients in medium bowl. Season with pepper. Unroll dough into rectangle on rimmed baking sheet. Mound filling crosswise on lower half of dough, leaving 1-inch border on sides. Fold upper half of dough over. Crimp edges to seal; fold corners under to form half-circle. Bake until puffed and brown, about 18 minutes. Brush with oil. Transfer to platter and cut into 4 pieces.
This post linked to