I have to admit, I don't like squash very much. Is it sweet, is it savory? The texture throws me off too, but I was determined to increase my veggie intake, so I knew I had to incorporate squash into my diet somehow. Then I saw this recipe in the Taste of Home Magazine and knew this was a possible way to make me like squash.
Let me tell you, I loved it!!! I loved the buttery-ness, paired with the sweet honey and the savory thyme. The contrast of sweet and salty is wonderful. It almost had a creamy testure, which I enjoyed more than just roasted squash. Mr.B gave it one thumb up and one thumb down. He ate his serving without complaining, so it couldn't have been that bad, LOL. I served it with
Orange Glazed Pork Roast
and it paired perfectly. I did have to omit the parsley and used ground thyme.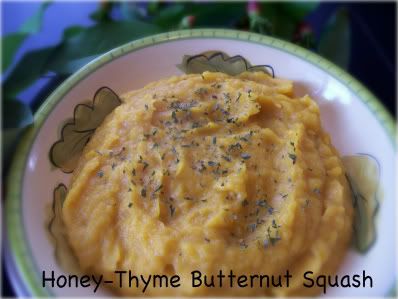 Honey-Thyme Butternut Squash
Adapted from Taste of Home Magazine
1 large butternut squash (about 5 pounds), peeled and cubed
1/4 cup butter, cubed
3 tablespoons half-and-half cream
2 tablespoons honey
2 teaspoons dried parsley flakes
1/2 teaspoon salt
1/8 teaspoon dried thyme
1/8 teaspoon coarsely ground pepper
Place squash in a large saucepan and cover with water. Bring to a boil. Reduce heat; cover and simmer for 8-10 minutes or until tender.Drain. Mash squash with the remaining ingredients.
Yield: 10 servings.
This post linked to
What's on the Menu Wednesday
Friday Favorites
Tuesday Night Supper Club