Happy Thanksgiving Canada!! Today is turkey day for us, so I'll be a busy little bee in the kitchen. Thankfully my nephew came for the weekend, so I'll have some help, since Hubby is working early, so he can join in the meal tonight.
Mr.B came down with the sniffles and a fever yesterday. He hasn't been eating much, so I've been trying to keep him hydrated. He still has a slight fever today, so I'm glad he doesn't have school until Wed. It'll give him time to rest and get this bug out of his system. I'm slightly congested too, so I hope I'm not catching anything. Other than that it should be a super quiet week for us. So here is our menu for the week, which consists of many recipes using leftover turkey.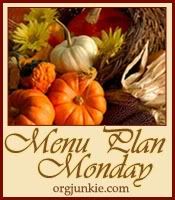 Thanksgiving- turkey, roast garlic mashed potatoes, honey-thyme squash, green beans with bacon and onions, stuffing, gravy and rolls. Apple pie and tarte au sucre (sugar pie) for dessert.
PW chicken Spaghetti (using turkey)
Sweet and Sour turkey balls, with fries and corn
Turkey tortellini soup, with honey oatmeal bread
Pierogies with a salad
Breakfast- pancakes, bacon and fruit salad
any leftovers
Head of over to OrgJunkie.com to check out tons of other great weekly meal plans.