Happy Monday! Mr.B and I spent a great weekend. Mr.B attended a birthday party for one of his school friends and I made awesome Halloween cupcakes, which I'll post tomorrow. Sunday we spent a whole lot of time at the park with our neighbors and have another play date with them, today, after school.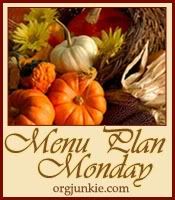 This week is a busy and exciting one. Queenie comes home tomorrow!!! Though I appreciate my parents taking her home so I could rest and heal, I missed her tremendously and am beyond happy she will be coming home. I also have my post surgery follow up appt on Wed, so I'm hoping to get the green light on resuming regular activities. Thursday we hope to hit the pumpkin patch, with Hubby and one of our good friends. Amidst all this excitement, we'll be eating (at least I hope so!!), so here is our menu for the week, in no particular order.
Double cheese and Prosciutto calzones (new recipe) and salad
Roast, with mashed potatoes and mashes carrots/ ruttabaga
Porcupine Balls (crock pot) with peas
Butternut squash soup (new recipe) with Honey oatmeal bread
Baked Rigattoni with ham, tomatoes and Feta (new recipe) and bread sticks
Baked chicken breast, scalloped potatoes and candied bacon pepper squash
Head on over to OrgJunkie.com, to check out tons of other great meal plans for the week!!