Good morning! We are getting a late start today, since I was kept up most of the night, by Hubby coughing. Just when we get over one cold/flu, another comes home :o(. Hopefully this one won't be so bad.
Today is a PA (professional activity) day, in Ontario, which means Mr.B has no school. He will have had a whole week off, with last week being his short week, and having today off. I'm not sure how they can justify that he is learning the same amount as the other children who go to school everyday. Let's just say I'm looking forward to Wed. School is such a great outlet for Mr.B and he's been a bit restless, with all this rain.
Hopefully, the rain will clear up by tomorrow, since we plan on heading to the pumpkin patch. Other than that the rest of the week will be low key. We do have to get Queenie her Halloween costume and we are pretty sure she has decided to be a pumpkin. Mr. B will be a Goblin, Sunday night, but a Vampire for school. Check back next Monday for pics of the kids in their costumes! So here's our menu for the week.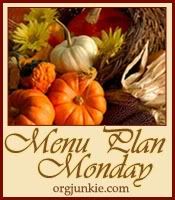 Breaded Fish (from a box), with fries and Cheesy Mashed Cauliflower

Ribs and baked potatoes

(crock pot), with corn
Balsamic Pork Scallopine (new recipe), with a salad

Salmon Patties

, with rice pilaf
Creamy Chicken Tortilla soup (new recipe), with

cornbread

leftovers
Pumpkin shaped pizza, spider dogs, veggies and dip (Halloween)
Head on over to OrgJunkie.com to see tons of other great meal plans for the week!