Good morning! Today was the first day in almost a month and a half, that I was on my own, to get DS ready for school. I must say it went pretty well and we made made it to school with time to spare. I'm sure it would have been more difficult with Queenie to take care of as well, but she went to my parent's house for a few weeks. Since I still don't have the green light to resume everyday activities, this week's menu will consist of many easy recipes, as well as some crock pot recipes.
This week, shouldn't be too busy. Mr.B has his first field trip of the year, to Puck's Farm. He was beyond excited to go today. He also has school on Wed and Fri and plans to ask Hubby if they can start decorating for Halloween on Thurs. If I can survive all that, then I'm truly on the road to recovery, LOL.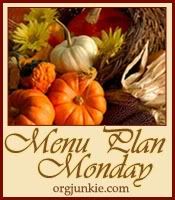 So here is our Menu for the week.
Easiest Crock Pot Chicken with noodles, broccoli (Mr.B) and honey-thyme squash (me)
Spaghetti and Meatballs (crock pot) with garlic bread
Beefy Noodles with peas
Old Fashion Tomato soup with homemade bread
Hubby's night to cook
BBQ Pork Sandwiches (using leftover Orange Glazed Pork), homemade Burger Buns and Potato Salad.
Leftovers
Don't forget to head over to OrgJunkie.com, to check out tons of other great meal plans for the week!!