The weather is starting to cool off, so that means I get to use the oven without feeling too guilty, LOL. There is nothing I like more, than the smell of dinner cooking in the oven, on a chilly afternoon. Since I'm still suppose to take it easy, a roast was the right way to go. You just pop it into the oven and a few hours later, it's ready to go. I found this recipe in my Southern Living Christmas Cookbook. I've had this cookbook for years, but this is the first recipe I've made from it. It's full of great down home recipes, that aren't too elaborate or extravagant.
This recipe was so simple, yet so flavorful and wonderful. The meat was tender and juicy. I really loved the tangy sweetness of the orange/mustard combo, paired with the savoriness of the rosemary (which is quickly becoming my favorite herb). Mr.B agreed that the meat was the best he's ever tasted and gobbled it up, before anything else on his plate. I didn't have Creole mustard, so I mixed 1 Tbs of Cajun seasoning with 2 Tbs of Dijon. I also cannot eat Marmalade at the moment, so I reduced 1 C of pulp free orange juice with 1 Tbs of sugar, until thick, which worked perfectly. This is a versatile recipe that can be altered to fit the ingredients you have on hand.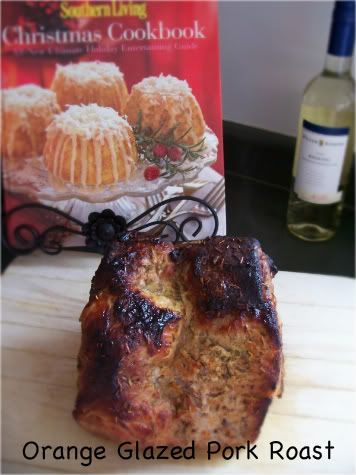 Orange-Glazed Pork Roast
Adapted from Southern Living Christmas Cookbook
Preparation Time: 10 minutes minutes
Cooking Time: 1 hour minutes
Other Time: 10 minutes minutes
Yield: Makes 16 servings
1 (3-pound) boneless pork loin roast
Vegetable cooking spray
1 1/2 teaspoons coarsely ground pepper
1/2 teaspoon salt
1 cup orange marmalade
2 tablespoons Creole mustard
2 teaspoons fresh or dried rosemary
2 tablespoons all-purpose flour
1 (14 1/2-ounce) can fat-free reduced-sodium chicken broth
Garnish: fresh rosemary sprigs
Place roast on a rack coated with cooking spray in an aluminum foil-lined shallow roasting pan. Rub roast with pepper and salt. Heat marmalade in a microwave-safe bowl at HIGH 10 seconds or until melted. Add mustard and rosemary, stirring until blended. Brush mixture over roast.
Bake at 375° for 1 hour or until a meat thermometer inserted into thickest portion registers 155°. Cover with foil; let stand 10 minutes. Remove roast from pan, and cut into slices; cover and keep warm.
Sprinkle roasting pan with flour; place on cook top, and cook over medium heat, 1 minute, whisking constantly. Add broth, and cook 5 more minutes, whisking constantly or until mixture thickens. Serve with sliced pork. Garnish, if desired.
This post is being linked to:
Cookbook Sunday
@ Brenda's Canadian Kitchen
Potluck Sunday @ Mommy's Kitchen