Most everyone has a weakness. For some it's shoes, others it's gambling. For me it's dessert. I just love dessert! Every time we go out, I look at the dessert menu first, to decide how much of an entree I want to order. That way I can get dessert. After all "There's always room for dessert", right?
I think it all started with my Dad. My Mom never lets him forget that at the age of 3 months, he was feeding me ice cream and dipping his finger in the sugar bowl and sneaking me a taste. I've probably been hooked ever since then.
I'm more partial to chocolate-y desserts, though you'll never see me turn down a good fruit pie, strudels or donuts, LOL. So when I saw these being reviewed on Cooking for your Family, I instantly knew I had to make them. Plus, Hubby is crazy about peanut butter and chocolate, so I knew they wouldn't go to waste.
These are amazingly good! The roasted peanut flavor with the creamy chocolate..... HEAVEN! You can't really taste the banana flavor, but it makes me feel a tad less guilty, since there's fruit in them. They are a bit more dense than regular 'cake' muffins, but really does it matter??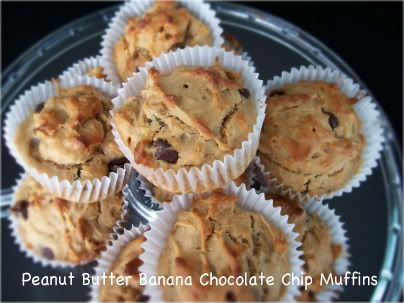 Peanut Butter Banana Chocolate Chip Muffins
Submitted by Marybeth~ mamamb10
2-1/2 cups all-purpose flour
1/2 cup sugar
1/2 cup packed, golden brown sugar
1 Tablespoon baking powder
3/4 teaspoon salt
1/4 teaspoon cinnamon
2-3 large, ripe bananas, mashed-enough for
1-1/4 cups banana
1 cup milk
3/4 cup smooth peanut butter
3 Tablespoons canola oil
1 teaspoon vanilla
1 large egg
1 cup semi-sweet chocolate chips
In a large bowl, sift together (make sure to sift), flour, sugar, brown sugar, baking powder, salt and the cinnamon; combine.
In another mixing vessel combine mashed bananas, milk, peanut butter, egg, oil, and vanilla; mix well. Add this to the dry mixture previously prepared; mix just enough to combine. Stir in chocolate chips.
Spray muffin tins with cooking spray, if you are using liners, spray those too, and fill tins 3/4 full. This will make 18 nicely sized muffins. You can double the recipe if you need more. Preheat oven to 350 degrees and bake for 20-25 minutes or until a toothpick comes out clean.
Cindy's notes
: I used chunky peanut butter, so I increased the amount to 1 C, to compensate.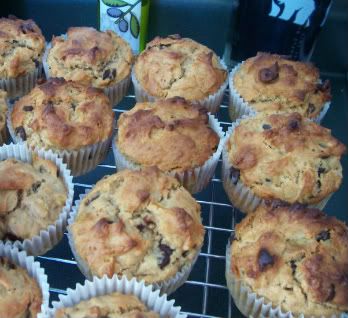 This post linked to