The weather has been pretty dreary and rainy this week, so we've been stuck in the house, wondering what to do. Of course, you know me and baking. So, I grabbed Mr.B and we headed into the kitchen to make these. Mr.B was all for it, since it included 2 of his favorite things; peanut butter and chocolate. He really is a great helper in the kitchen. I just love his enthusiasm in the kitchen. Even if sometimes it results in flour everywhere, LOL. He is getting really good at cracking eggs and is so proud of himself, when he doesn't get any shells in the bowl. I hope he grows up to enjoy being in the kitchen, like Hubby and I do.
These bars are amazing. I mean peanut butter and chocolate are practically meant for each other! They are slightly gooey, with a nice slightly hard chocolate top. They would be too mushy, without the firm chocolate. I love the glaze, which just ups the PB flavor. I made extra glaze and add some to my piece, anytime I have one, LOL. This glaze would be so awesome on brownies or banana muffins......
drool
.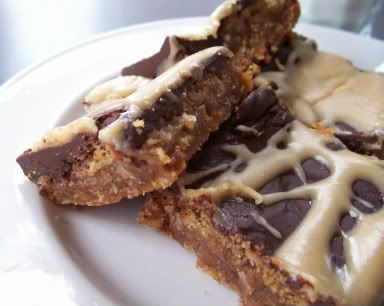 Peanut Butter Chocolate Squares

Adapted from Gold Medal Flour- Cookies from the Heart
1/2 C sugar
1/2 C brown sugar
1/2 C margarine or butter, softened
1/3 C peanut butter
1 C Gold Medal all-purpose flour
3/4 C quick cooking or old-fashioned oats
1/2 tsp baking soda
1/4 tsp salt
1/2 tsp vanilla
1 egg
1 C semisweet or milk chocolate chips
Peanut Butter Glaze ( below)
Heat oven to 350 degrees. Grease rectangular pan, 13x9x2 inches. Mix sugars, margarine and peanut butter in a large bowl. Stir in remaining ingredients except chocolate chips and peanut butter glaze. Spread in pan.
Bake 15-20 minutes or until golden brown. Immediately sprinkle with chocolate chips. Let stand about 5 minutes or until chips are softened; carefully spread over baked layer.
Refrigerate uncovered about 30 minutes or until chocolate is firm. Drizzle with peanut butter glaze. Cut into 2-inch squares.
Peanut Butter Glaze

1/3 C powdered sugar
2 Tbs peanut butter
1-2 Tbs milk
Mix all ingredients until smooth and thin enough to drizzle.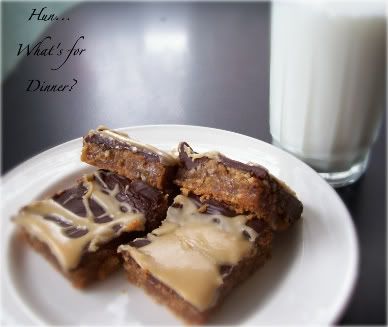 This post linked to