Spaghetti, veggies and chicken are tossed in a creamy sauce, topped with cheese and baked until bubbly.
There has been a lot of buzz, about this dish and the Pioneer Woman, over on
Cooking for your Family
. I first heard about Ree, a few years ago, on TV. She was promoting her new cookbook, so I decided to check out her site. Amazing!! I mean great food, no fancy shmancy ingredients and it all tastes so yummy. I think this is about the third PW recipe I've tried. I've added her cookbook(s) to this years Christmas list, hoping to try more of her great recipes. I've already book marked her Ranch Chicken recipe, for my next meal plan, LOL.
So, since I had a ton of leftover turkey (from Thanksgiving), I decided to give this recipe a try. It was a great meal. Total comfort food. Creamy, cheesy pasta and turkey, with a slight bite at the end. For some reason, I couldn't find pimentos at the grocery store down the street, so I decided to use roasted red peppers instead.
(I really wasn't in the mood to drive right into town, to search for pimentos, LOL)
Mr.B loved it, as did Hubby and my nephew. By the next morning, it was all gone and my hopes of having some for lunch, were dashed. This will be going into my leftover turkey file, since it's a great way to use already cooked chicken/turkey.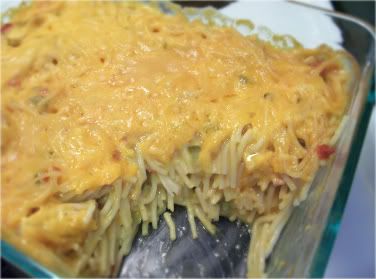 Chicken Spaghetti
Adapted from
The Pioneer Woman Cooks
2 C cooked chicken or turkey
3 C dry spaghetti, broken Into Two
2 cans Cream of chicken Soup
1 C sharp Cheddar cheese, divided
¼ C yellow pepper, chopped
¼ C onion, finely diced
1/2 C finely sliced button mushrooms
1- 4oz jar diced pimentos, drained (or 1 roasted red pepper)
1 C reserved pasta water
1 teaspoon Lawry's Seasoned Salt
1/8- 1/4 tsp thyme
Salt And Pepper, to taste
Cook up a fryer chicken and pick out the meat to make two cups (feel free to use leftover roast chicken, or turkey).
Cook spaghetti in a large pot of generously salted water, until al dente. Do not overcook.
In a large skillet, heat the olive oil over medium heat. Add in the onion, yellow pepper and mushrooms. Cook until mushrooms are browned and onions are translucent; about 5 minutes. Add in chopped roast red pepper and turkey. Cook until heated through; about 3 minutes. Pour in cream of chicken soup and season with seasoned salt and thyme. Cook for 5 minutes, to heat through. Add drained pasta to the skillet and toss to coat, adding pasta water if sauce it too thick.
Place mixture in casserole pan and top with sharp cheddar. Bake for 45 minutes until bubbly. (If the cheese on top starts to get too cooked, cover with foil).
** This is my most popular recipe on my blog. I really wasn't a fan of the photos, so I took recent photos which I think are much better. I will however leave the old photo on this post, as it is one of my most pinned recipes. **
This post linked to