I saw these cute little things on the cover of a magazine, in the checkout line of our local grocery store. I just knew I had to make them, so I bought the magazine.
This is one of the reasons Hubby hates when I shop alone.... I deter from the list, LOL.
I had a free afternoon on Saturday, with Hubby at work and Mr.B at a Bday party, so I took the time to make the cupcakes. I knew Mr.B would freak right out, when he saw them, so I wanted to surprise him. The are pretty simple to make, but do take a bit of time and patience. I used some white melting chocolate, instead of frosting, to secure the ribs and arms. I figured it would set up much quicker than the frosting would. An hour later I had a counter full of cute little Mr. Bones (as Mr.B calls them).
When Mr.B got home from his party, all hopped up on candy, cake and ice cream, he saw the cupcakes and exclaimed " Wow Mommy, you're the bestest baker ever!!".
Nothing like a great ego boost from a 5 yr old, LOL.
He's been telling anyone who will listen, about his skeleton cupcakes.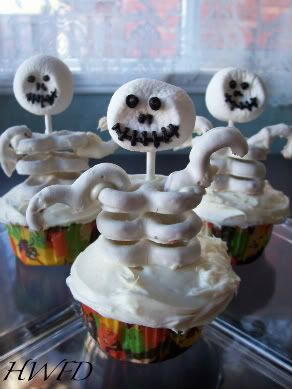 Skeleton Cupcakes
Adapted from Woman's Day Halloween Celebrations; 2010
Who could resist a cute cupcake with a skeletal frame comprised of a marshmallow skull and yogurt mini pretzel ribs supported by a lollipop stick? Whip up a batch of these bony characters with your favorite cake mix and canned frosting.
Active Time: 45 minutes
Total Time: 1 hour 30 minutes
1 box (18.25 oz) white cake mix
4 large egg whites
1 cup milk
1/3 cup canola oil
2 cans (16 oz each) vanilla frosting
Decoration:
18 marshmallows
4-in. lollipop sticks
black food color decorating pen
Black writing gel
72 yogurt-covered mini-pretzels
1. Heat oven to 350°F. Line 18 regular size muffin cups with white liners.
2. Beat cake mix, egg whites, milk and oil in large bowl with mixer on low speed 1 minute until blended; increase speed to medium and continue to beat 2 minutes or until batter is smooth. Divide batter among muffin cups, filling each 2/3 full.
3. Bake 20 to 22 minutes until a wooden toothpick inserted in centers comes out clean. Cool in pans on wire rack 10 minutes before removing cupcakes to rack to cool completely. Frost cupcakes with vanilla frosting.
4. To decorate: Slightly flatten marshmallows with palm of your hand. Insert a lollipop stick into each marshmallow. With the black decorating pen, using photo as a guide, draw the skeleton mouth along the bottom of each marshmallow. Draw 2 nostrils above the middle of the mouth, as shown. Make the eyes with dabs of the black writing gel.
5. For each skeleton, carefully thread the stick end of the marshmallow head through the small hole of a pretzel, slowly twisting the pretzel from side to side as you push it up toward the head, stopping about 1/2 in. below the head. Secure the pretzel in position with a dab of frosting. Add 2 more pretzels, lining them up, to resemble the rib cage, securing with dabs of frosting. Stick the skeleton into the top of a cupcake. To make the arms, carefully cut a pretzel in half with a serrated knife and attach to the top rib with frosting as shown. Repeat with remaining skeletons.
Linking this post to
Cupcake Tuesday
Tasty Tuesday
Tempt my Tummy Tuesday
Tuesdays at the Table

Delishes Dishes
What's Cooking Wednesday
All Halloween Bash