Years ago, when Mr.B was still in diapers, I was searching for crockpot recipes, to make my life easier. When I mentioned it on a cooking forum, I frequent, someone offered to send me a huge file of recipes. Throughout the years I've made a few, with great success. This is one of those recipes. The ingredients are so easy, but the chicken tastes so delicious. It's tender, creamy and goes so well with some hot cooked rice. Who ever thought up the title for this recipe wasn't kidding, it is the easiest recipe, but delicious at the same time.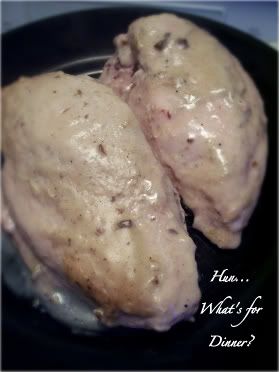 Easiest Crock Pot Chicken
1 Package chicken breast halves
1 Can 98% fat-free cream of mushroom soup
1 Can 98% fat-free cream of chicken soup
Skin chicken pieces (or use boneless, skinless chicken breasts). Place in crockpot. Mix togethersoups, and pour over chicken. Cook on low, all day. Remove chicken from sauce - remove bones.Serve over hot rice.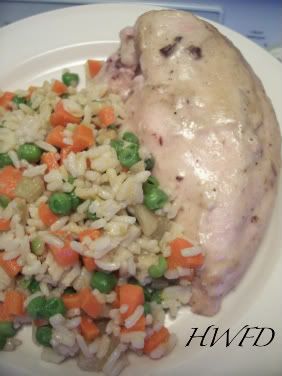 ~~~~~~~~~~~~~~~~~~~~~~~~~~~~~~~~~~~~~~~~~~~~~~~~~~~~~~
M, form
Betty Crapper
, has tagged me with a getting to know you post. We know each other through our food blogs and we also belong to the Cooking for your Family group. She has an awesome food blog and makes everything from scratch. If you haven't heard of it, you should check it out!
The rules of the
internet
"game" are simple: answer eight questions provided by the "tagger" and then chose eight blogs to tag with eight questions of my choosing.
1. What is your favorite cookbook?
At the moment it's Fast Easy Fresh-

Bon

Appetit



2. What do you feel like eating when you are grumpy?
Sweets, mostly chocolate
3. What is your favorite dessert?
Yule log cake, that my Mom makes every Christmas.


4. How did you learn to cook?
By watching my Mom in the kitchen, watching Food network and by watching Hubby (my Chef).


5. What is your favorite kitchen appliance or tool?
I'd have to say my mini whisk or

microplane

.

6. Is there anything in the kitchen that intimidates you?
Seafood. I'm always terrified of over cooking it and it being rubbery.

7. How far in advance do you plan your meals?
I meal plan for 2 weeks at a time, since Hubby gets paid bi-weekly. Sometimes I'm lazy and we just wing it for a week or two,

LOL

.

8. What is your most treasured food related memory?
Making cabbage rolls, meat pies and Christmas cookies with my sister and Mom.


I'm tagging the following
bloggers
Ms.

Enplace
Brenda's Canadian Kitchen
Amy's

WFD

Blog
Global Table
Savory Seasonings
Cookbook Confessions
Lunches Fit for a Kid
Recipes Straight from the

Kowboys

Home
Here are the 8 questions you must answer
1. Do you prefer cooking or baking?
2. Is there a dish your family is crazy about?
3. What makes you want to try a certain recipe?
4. What ingredient would you love to cook with, but never have?
5. It's late and the kids are starving, what do you make?
6. What is your favorite cold weather beverage?
7. Is there a specific kind of cuisine you prefer cooking?
8. What famous Chef would you love to cook with?
This post linked to
Tasty Tuesday
Tempt my Tummy Tuesday
What's Cooking Wednesday