Gremolata is an Italian blend of garlic, parsley and lemon peel. It's traditionally sprinkled over osso buco. But why stop there?
Ever wonder who took a look at asparagus and thought, "hmmm, this would probably taste good". I mean, they do look a little weird, like extra tall Christmas trees, LOL. I never tried asparagus, until a year ago. As I mentioned in a previous post, I grew up in a very non adventurous household, when it came to food.
Plus, I was almost sure I wouldn't like them. I'm not a huge fan of many green veggies.
I was wrong! They're really tasty!
I choose this recipe because it uses ingredients I usually have on had. It's so simple, yet the flavors are phenomenal. I really love the tartness of the lemon and creaminess of the butter, with the aspsaragus. It gave the bitter asparugus a nice fresh flavor. This would be a super dish, during the summer months.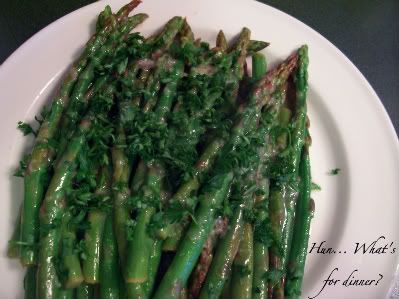 Asparagus with Gremolata Butter
Adapted from Bon Appetit~ Fast Easy Fresh Cookbook
2 lbs asparagus, trimmed
2 Tbs (1/4 stick) butter
2 tsp finely grated lemon peel
1 garlic clove, minced
2 Tbs fresh lemon juice
1 Tbs fresh parsley, chopped
Cook asparagus in large pot of boiling salted water, until just crisp-tender, about 4 minutes. Drain, rinse with cold water to cool quickly. Drain again.
Do Ahead
Can be made 1 day ahead. Wrap in paper towels, cover, and chill.
Melt butter in heavy large skillet over medium high heat. Add lemon peel and garlic; stir 30 seconds. Add asparagus and toss to coat. Sprinkle lemon juice over. Saute until asparagus is heated through and coated with butter sauce, about 3 minutes. Season asparagus to taste with salt and pepper. Transfer to platter. Sprinkle with parsley.