I was bored the other night and was browsing through some pictures my Mom downloaded onto our computer, last year. In them were pictures of cupcakes I had made, for Mr.B's Christmas party at school. I had totally forgotten about them. I remember how excited Mr.B was to be bringing "fancy cupcakes" to school. The teachers all complimented me on the great work I did and all joked that I should make treats, for all their celebrations. I sure hope they aren't expecting me to one up myself this year, LOL. I had a lot of fun creating these ornament cupcakes and mini snowflakes. So, I'm glad to be able to share them with you this year.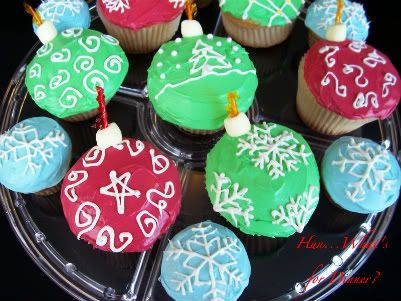 Christmas Ornament Cupcakes

1 C sugar
1/2 C butter
2 eggs
2 tsp vanilla
1 3/4 tsp baking powder
1 1/2 C flour
1/2 C milk
1 can of white frosting
12 yellow mini marshmallows
12 fancy cocktail toothpicks
Preheat oven to 350 degrees. Line a 12 cup muffin tin with papers. In a medium bowl, cream sugar and butter. Beat the eggs in, 1 at a time, then add the vanilla. Combine the flour and baking soda and add to the creamed mixture. Mix well. Stir in the milk, until the batter is smooth. Pour into prepared muffin tins and bake for 20-30 minutes. The cake should spring back when slightly touched. Cool completely. Separate frosting in 3, to make red, green and leaving the remainder white. Frost cupcakes with red and green frosting and pipe designs with with frosting using a #2 round tip. Insert toothpick into marshmallow, up to the frills, then insert into top edge of the cupcake, creating the ornament hook.
For mini snowflakes:
take any remaining batter and fill paper lined mini muffin tins. Tint any remaining icing slightly, with royal blue icing gel. Frost cupcakes and pipe snowflake patterns, onto blue frosting with a #2 round tip.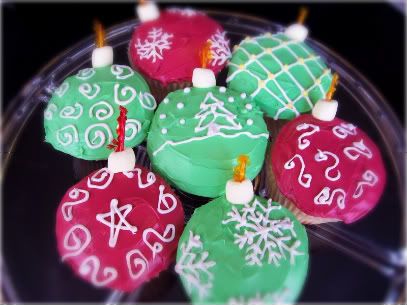 This post linked to