One of the reasons I love Fall and Winter, is that I can make soup. I just love soup. I'm not sure why, but it makes me smile, just thinking of a nice steaming bowl of warm comforting soup.
Growing up, my Mom would make soup on a regular basis. My favorite was my Memere's Tomato Noodle Soup. Then there were others, I wasn't too fond of. Like corn soup...... basically creamed corn, cooked with rice and water.
Yeah, I know, LOL.
Mom would make that one every Friday, during lent. The alternative was split pea soup, which she made for her and my Dad. The corn soup won hands down, for sure :oP
Since moving out..... well OK; since marrying Hubby, my soup repertoire has evolved from canned soup, or Lipton's Chicken Soup packets, to homemade soups. I think I made my first from scratch soup 4 yrs ago. Before that, I'd either have soup while dinning out, or Hubby would whip something up. Now, I'm always on the lookout for any soup that looks and sounds good. I found this one on a Canadian Moms forum I frequent. I had never had Chicken Tortilla soup before, so I thought why not?
Let me tell you, I'm glad I gave this a try. It was wonderful. I loved the creamy broth and beans, paired with the spicy pieces of pepper and tomato, from the salsa. The only thing I didn't really care for, was the tortillas. They got pretty soggy and mushy in the soup, so next time I'll just save them for a garnish. Everyone thought it was pretty good, even though Hubby said it wasn't authentic Tortilla soup.
Sometimes cooking for a Chef is a pain in the.....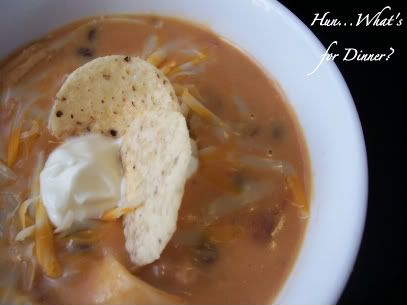 Creamy Chicken Tortilla Soup
Submitted by Jenn
2 cans low fat cream of chicken soup
4 chicken breasts cut into 1/2 inch cubes or chunks
1 can of black beans, rinsed
1 cup of salsa (extra chunky or just chunky)
1 soup can of water
4 six inch tortillas cut into stripps
(I use 2 1/2 10 inch ones)
1 cup of shredded cheddar cheese
(I used 1 cup of the tex-mex cheese for an added kick instead of the cheddar)
Add the chicken, the two cans of soup, the water, the salsa and the beans, stir it up. Cook on low for 4-5hrs
The last 15 min of cooking add the tortilla strips and the cheese.
when it's done, garnish with more cheese if you want.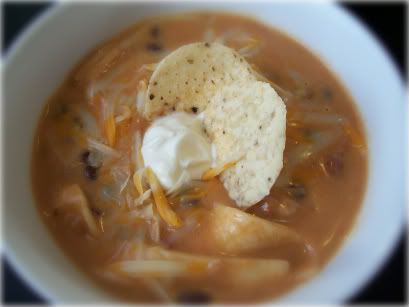 This post linked to