In a perfect, world children would love every vegetable placed before them. In a perfect world, children would love healthy, nutritious food. Let's face it, the world is far from perfect, so I, along with many other parents struggle to get our kids to eat a wider variety of vegetables. Fruit have a better success rate, but those veggies, they get the short end of the stick.
I've been trying to broaden our vegetable repertoire, and it hasn't been very successful. I'd love for the kids to eat asparagus, cabbage, beets, squash; but these two are hard nuts to crack. One tiny bite and they refuse to ever touch them again. We offer them, anytime we have them, but they get shot down time and again.
I hope that by them seeing Hubby and I eating different veggies, they will want to try them and eventually start loving them. I didn't really like vegetable, until recently. I grew up on corn, carrots and peas. All canned at that, though Mom use to buy fresh carrots and celery. On special occasions we'd see some broccoli, peppers or cauliflower. It's not until recently, that my Dad has started eating some of the special occasion veggies, LOL.
I've been buying a lot of squash lately. It's a good source of potassium, which I need, now that I have my Ileostomy. So when someone asked for Butternut Squash recipes over at
CFYF
, I zeroed in on the discussion. This low fat and quite simple recipe, caught my eye. As I was making it, I got a wild hair and decided to add some clove. Well my little shake, turned into too much and the soup wasn't as appealing as it would have been without it. The kids both took one bite and were done, LOL. I managed to eat a big bowl of it, before deciding it was truly horrible with the clove. A pinch maybe, but I think I accidentally added about 1/2 a tsp. Hubby thought it was curry sauce and commented it would have been great with less clove and over rice and chicken.
So, I'm definitely going to make this again. Stickin' to the darn recipe this time, LOL.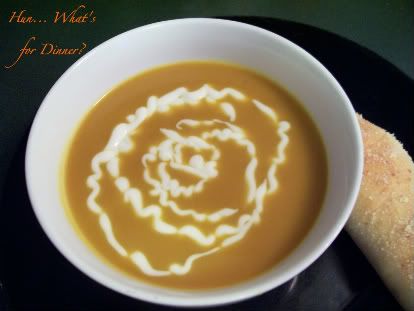 Curried Butternut Squash Soup
2007 Ellie Krieger, All rights
1 tablespoon canola oil
1 medium onion, chopped (about 2 cups)
2 cloves garlic, minced
1 (2 1/2-pound) butternut squash, peeled, seeded and cut into 1-inch cubes
6 cups low-sodium chicken broth or vegetable broth
1 tablespoon plus 2 teaspoons curry powder
1/2 teaspoon salt, plus more, to taste
2 tablespoons honey
4 teaspoons plain low-fat yogurt, for garnish
Heat oil over medium heat in a 6-quart stockpot. Add onions and garlic and saute until soft but not brown, about 6 to 7 minutes. Add the butternut squash, broth, curry powder and salt and bring to a boil. Reduce heat and simmer until squash is tender, about 12 to 15 minutes. Remove from heat stir in honey and puree with an immersion blender or in batches in a blender until smooth. Season with salt, to taste.
Ladle into serving bowls and add a dollop of yogurt.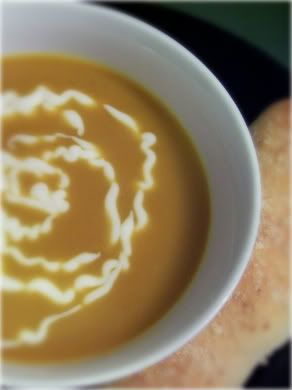 This recipe linked to