I love apples. Crunchy, sweet and tart goodness. My favorites are MacIntosh apples, but I've never been known to turn down a good Golden Delicous or Granny Smith. The kids are partial to Macs, since they are softer, than other apples.
I love desserts made with apples. Crisps, crumbles, muffins, cakes, pies; I'll take them all.
I make apple pie often, but they either turn out too runny, or the spices are too prominent. I like cinnamon, but I'd also like to taste the tartness of the apple as well. This recipe is perfect. I doctored up my Mom's recipe and have found my go to recipe, for the rest of my days. Tastes like Mom's, but with an extra bit of goodness.
Oh! Guess what? I also made my first batch of pie crust, that I did not want to heave out the window. I used my Mom's recipe for that as well and it rolled out perfectly for me. So proud of myself, LOL.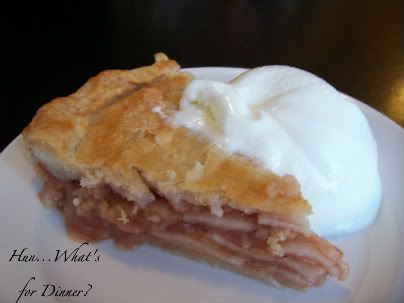 Down Home Apple Pie
8 apples, peeled and thinly sliced (I I like using MacIntosh)
1/2 C sugar
1/4 C brown sugar
3 Tbs flour
1 tsp cinnamon
1/8 tsp nutmeg
2 Tbs lemon juice
4 pats of butter
dough for 2 pie crusts (recipe below)
2 Tbs milk
1 Tbs sugar
In a large bowl combine apples, lemon juice, sugars, cinnamon, nutmeg and flour. Pour into a bottom crust and dot with butter. Place top crust and brush with milk and sprinkle with 1 Tbs sugar. Bake in a 350 degree oven for 1 hour. If edges begin to brown too quickly, cover with strips of foil and continue baking.
Pie Crust
This makes enough for about 5 double crust pies
5 C flour
1 lb lard (such as Tenderflake)
3 Tbs baking powder
1 tsp salt
1 C water
1 egg
1 Tbs vinegar
In a large bowl, combine the flour, baking powder and salt. Cut in lard, until mixture has mostly pea size clumps. In a measuring up, crack egg, add vinegar and enough water to make a total of 1C liquid. Slightly beat egg and pour into flour mixture. Mix until all combine, but careful to not over mix. Separate dough into 10 same sized balls. Wrap balls in plastic wrap and place by 2s into Ziploc bags, to place in the freezer. Simply thaw to room temp, when ready to use.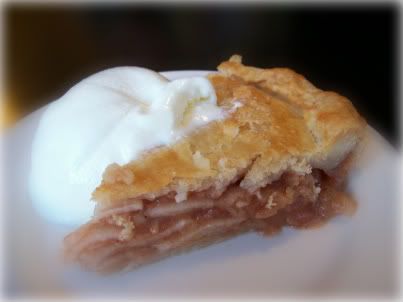 This post linked to