Interesting title isn't it?? It sure caught my attention, which I think is why Rachael Ray used it. I recently found my RR cookbooks, which had mysteriously disappeared, since we had moved in. Guess where I found them??
In the garage..... I have suspicions about Hubby putting them in there, though he denies whole heartedly that he did. Why else would all my other cookbooks be in boxes down stairs and those 4 be in the garage???? But I digress....
So, I found my beloved cook books and quickly skimmed through all my bookmarked pages. I glanced through this recipe and for some reason it stuck in my head. After waking up to snow, Friday morning, and playing in it all day; I wanted something hearty and comforting for dinner. What's better than Mac'n'Cheese? I knew the boys would like it, but with Queenie, it's hit or miss lately.
By itself, it's pretty plain and boring. Simply mac'n'cheese, with ground beef in it. The pickles and tomatoes really add a much needed layer of flavor. The crunch of the tangy pickle and the sweet tomato, make this dish more than just noodles with cheese sauce and beef. It really does make it taste, somewhat like a cheese burger. That Rachael.... she's a smart cookie sometimes.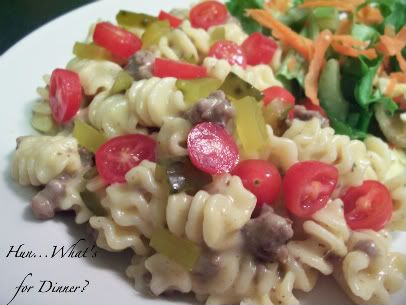 Mac 'n' Cheese 'n' Burgers
Adapted from Just in Time by Rachael Ray
salt
1 lb cavatappi pasta (Hollow corkscrew pasta) or 1 lb penne
1 tablespoon extra virgin olive oil, once around the pan
1 lb ground sirloin
3 -4 tablespoons grated onions, and juice
2 teaspoons Worcestershire sauce ( Eyeball It)
black pepper
4 tablespoons butter, Cut Into Pieces
3 tablespoons all-purpose flour
1 cup chicken stock
2 cups whole milk
1 tablespoon Dijon mustard
2 cups shredded cheddar cheese
1/4 cup chopped dill pickles, For Garnish (optional)
2 plum tomatoes, Seeded And Diced (optional)
Bring a pot of water to a boil. Salt liberally, add the pasta, and cook al dente.
While the pasta works, heat a nonstick skillet with the EVOO over medium-high heat. Add the beef and cook until brown, breaking it up with a wooden spoon into bite-size pieces. Add the grated onion and juice, Worcestershire, and salt and pepper to the skillet and combine.
While the meat browns, heat a saucepot over medium to medium-high heat. Add the butter and, when it melts, whisk in the flour. Cook it for a minute, then whisk in the stock and milk and season with salt and pepper. Bring the sauce to a bubble, then cook for a few minutes to thicken it up. Stir in the mustard, then add the cheese a few handfuls at a time, stirring in a figure-eight motion as it melts into the sauce. Adjust the salt and pepper.
Drain the pasta, then return it to the hot pasta pot along with the beef and cheese sauce. Stir to combine the mac 'n' cheese 'n' burger, adjust the seasoning, and serve in shallow bowls garnished with chopped pickles and tomatoes, if you like.