Wow, November already! It seems like this year is just flying by! We had a wonderful Halloween weekend, with pumpkin carving, watching Halloween shows on TV and snuggling with hot chocolate. It was much needed, as we woke to snow Sunday morning. I was not impressed, but glad that the sun finally came out, a few hours before dinner. The kids had a blast Trick-or-Treating and only made it around the block, before wanting to come home, LOL. Despite that, they came home with huge bags full of candy. I'm hoping to give some away, since we really don't need all that extra sugar and calories. Here are pics of the kids in their costumes. Mr.B was a goblin, with make up done by Hubby. He really did a wonderful job with the prosthetic ears and horns. Queenie decided on a ladybug costume, when the hopes of being a pumpkin were dashed.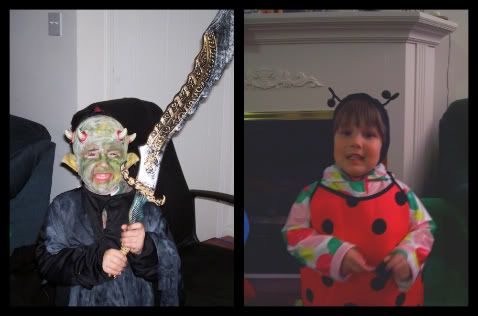 This week should be a quiet one. Mr.B only has 2 days of school and DH is working all week. My nephew has moved back in with us, since he will be attending the college near by. So one more person to try recipes on, LOL. Our menu this week is nothing fancy. I wanted comforting and easy food, since I've been exhausted lately. So in no particular order.....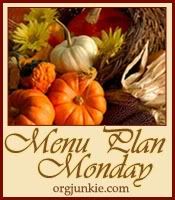 Cabbage rolls
Potatoes and carrots, sauteed with bacon and onion
Shrimp Scampi with a salad
Balsamic pork scallopine (from last week), with roasted asparagus
Oven roast rosemary chicken and potatoes, butternut squash on the side
leftovers
Head on over to OrgJunkie.com, to check out tons of other great Meal Plans for the week!