We love pierogies in this house. One thing we missed, living in the U.S. was pierogies. I remember about a year before moving home, we did find some, at a near by grocery store. I also remember when Mr.B was 3 and he swallowed a nickle. We took him to the ER and they asked if he was eating alright. I mentioned that he had pierogies for lunch and the doctor asked me where we were from. Turns out he was from NY and mentioned he knew we weren't original Tennesseans, since they don't know what pierogies are, LOL. So, I guess it's a northern U.S. and Canadian food.
While browsing my newly found Rachael Ray cookbooks, I stumbled upon this recipe. One of our favorites, mixed with another dish the kids love. SCORE!!
I've never really cooked with Cumin before. Well, except for what is in those taco and fajita packets, LOL. I really loved the pungent flavor, paired with the fresh lemon zest. It really took it to another level. Gave it a bit of pizazz. Everyone enjoyed it, though we all agreed that the stew definitely needs the pierogies, other wise the cumin is a tad overwhelming. But together, it mellows out, with the creamy potato filled pasta. I used half a pound of bacon and subbed extra chicken stock for the wine, otherwise I followed the recipe to a T. Hubby said I should make it again, so this one was a winner!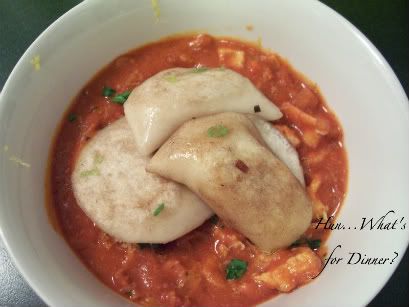 Paprika Chicken Stew with Potato Pierogies
Adapted from Rachael Ray Just in Time
1/2 pound (about half of a package) smoky, good-quality bacon, chopped into half-inch pieces
3 tablespoon extra-virgin olive oil (EVOO), divided, plus some for coating the pierogies
3 1/2 pounds boneless, skinless chicken breasts and thighs, cut into chunks
Salt and freshly ground black pepper
2 large onions, chopped
4 carrots, peeled and chopped
5 cloves garlic, smashed and roughly chopped
2 rounded tablespoons sweet paprika
1 tablespoon cumin
1/2 teaspoon dried marjoram or oregano
2 bay leaves
2 tablespoons flour
1/2 cup white wine
2 1/2 cups chicken stock
1 28-ounce can crushed tomatoes
4 tablespoons butter
24 potato pierogies (if unavailable, serve over buttered egg noodles)
1/2 cup sour cream
1/4 cup chives, chopped
Optional:
1 tablespoon lemon zest
2 tablespoon parsley, chopped
Place a large pot of water over high heat and bring up to a boil for the pierogies.
Place a large Dutch oven over medium-high heat with 1 turn of the pan of EVOO, about 1 tablespoon. Add the bacon and cook until brown and crisp, about 2-3 minutes. Season chicken pieces with salt and pepper, add to the pot with the bacon and brown all sides, about 5 minutes. Add onions, carrots and garlic, paprika, cumin, marjoram and bay leaves, and cook for about 4-5 minutes, until the veggies are tender. Make a well in the middle of the pan and add 2 tablespoons of EVOO. Add the flour to the EVOO and mix to form a paste.
Add the white wine, scraping up all of the brown bits on the bottom of the pan. Add the chicken stock and tomatoes, and cook for about 20 minutes until the stew has thickened.
While the stew is cooking, cook the pierogies according to the package directions. Drain and coat lightly with EVOO so they do not stick together. Heat a medium-size nonstick skillet over medium-high heat, add the butter and cook until butter turns slightly brown and gives off a nutty smell. Make sure not to burn the butter though! Add the cooked pierogies to the pan and cook until slightly browned on both sides, about 1-2 minutes per side.
Serve the stew in large bowls topped with a tablespoon or so of sour cream and some chopped chives with a sprinkle of lemon zest, rosemary and parsley. Place the pierogies on top of the stew and eat!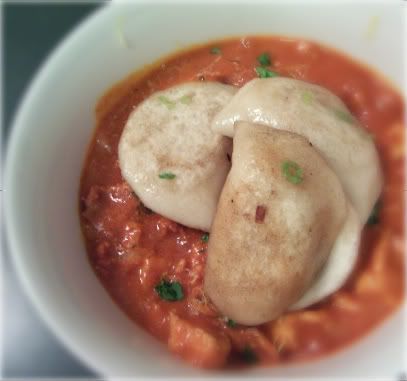 This recipe has been submitted to
Iron Chef Cahllenge-Canned Tomatoes