Many years ago, when Hubby and I first got together, he introduced me to the Inn Chef. The Inn Chef, aka Michael Smith, is a really great Canadian Chef, on Food Network Canada. He is from the East coast, and started his FNC career at the Inn at Bay Fortune. Hubby was very intrigued by his cooking style and creativity. When we moved to the U.S., Michael Smith was forgotten. After moving back to Canada, last year, we were pleased to see that Chef Smith was still on FN and we've enjoyd his current show, Chef at Home.
It seems like I rarely get to watch adult TV lately. Once the kids are in bed, I'm so exhausted that after a quick browse on line, I'm ready for bed. So, the few times I get the opportunity to watch TV, during the day, I usually watch the Food Network. I saw this recipe by Chef Smith, months ago and it has stuck in my mind, since then. While thinking of a side dish, last week, I decided to finally try this tart.
I mean potatoes, bacon and cheese, who could resist, right?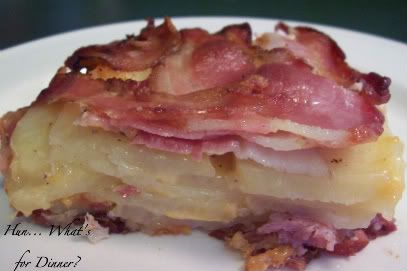 I'm so glad I tried it! It was totally unbelievable! The potatoes were amazing, since they cook right in the bacon drippings. The cheese seeps through the cracks and gets all crisp and yummy. I only had 1/2 a pound of bacon, so it didn't turn out as pretty as it should have, but it was still super delicious. The kids also enjoyed it and Hubby had no problem polishing off any leftovers.
Which kind of made me sad, since I was really looking forward to having leftovers for lunch.
This will definitely become a regular side in this family.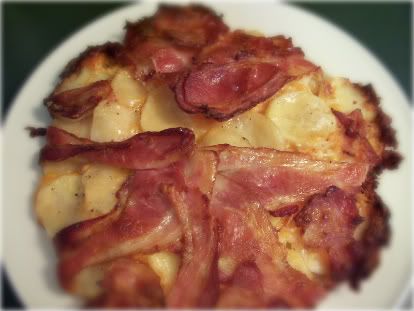 Potato Bacon Cheddar Tart
Courtesy of : Michael Smith
5 baking potatoes, sliced one quarter inch thick
1 pound of thickly sliced bacon
1 pound of orange cheddar cheese, grated
Salt and pepper
Preheat oven to 325 degrees. Line a 6-inch non-stick fry pan with bacon slices, arranging them in a radial pattern and starting with one end of bacon in the centre of the pan and the other end draped over the edge. When the entire surface of the pan has been covered, sprinkle with pepper and add a layer of sliced potatoes to cover the bottom. Sprinkle with grated cheese and pepper and repeat layers until they are slightly above the top of the pan. Fold the bacon, one slice at a time up and over the potato mound toward the centre. Carefully overlap each slice and repeat until the top is completely and neatly covered with bacon. Press down and cover with a lid. Place tart on a baking sheet, which will catch any drips during cooking. Bake for 3 hours.
Cindy's notes:
I sauteed some diced onion, until golden and sprinkled it on top of the potatoes, before sprinkling with cheese.
This post linked to
What's Cooking Wednesday
Tip Day Thursday Carnival
Ultimate Recipe Swap
Recipe Swap Thursday