I saw Rachael Ray make this on her show, 30 minute meals, a few years ago. Always wanting to find ways for the kids to eat their veggies, I gave it a try. Mr.B who was 3 at the time, didn't care for it, but Hubby and I did. Since Mr.B wasn't fond of it, I didn't make it very often. Fast forward 2 yrs...... I make it again, thinking Mr.B's taste buds may have changed and Queenie had never tried it before, so I may have a chance. They didn't devour it, but they didn't make a fuss about eating it, which is a win in my books.
These are creamy and cheesy, but a bit stiff, after sitting a while. The recipe never really worked for me, since there would always be too much liquid left over and it would be more like soup, than smashed cauliflower. So I've started to reduce the liquid by half and then let it almost all evaporate, to have a mashed potato consistency. The nutmeg just adds a little hint of warmth, or like Rachael would say " A little hint of something, I don't know what it is, but I like it".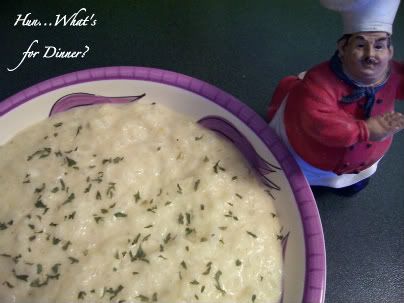 Smashed Cauliflower with Cheese
Recipe courtesy Rachael Ray
Show: 30 Minute Meals
Episode: Leave The Carbs Behind
1 large head cauliflower, cut into florets
3 cups chicken stock
4 tablespoons butter, cut into pieces
1 cup shredded white extra-sharp Vermont Cheddar
Place cauliflower in a medium shallow pot or pan. Add stock, cover and place pot over high heat. When liquid boils, reduce heat to simmer and cook covered 10 minutes. Remove cover, raise heat to medium high and allow the broth to reduce by half, 2 minutes. Add 2 tablespoons butter, cut into pieces and the cheeses and smash the cauliflower with a masher to the same consistency as desired for mashed potatoes. Season the cauliflower with black pepper, a pinch of salt and nutmeg.
This post linked to
Delicious Dishes
Tuesdays at the Table
Hearth and Soul
Tasty Tuesday
Tempt my Tummy Tuesday
What's on your Plate?
Show and Tell
Works for me Wednesday
Saturdays with Rachael Ray