One thing you need, to fit in to this family, is a love for pasta and cheese. We just love it. I, myself, would be able to live on pasta and cheese, for the rest of my life. Hubby often says I'm a vegetarian, trying to fit into a meat eating family, LOL.
A few months ago, I had made a
bacon and cheese stuffed shell
recipe, but my Mom and Hubby had mentioned making it with a red sauce, rather than the rich cream sauce. So I decided to try it. I really think I prefer it with Marinara sauce and so did the kids. I think it's something about red sauce and them, they will not even look at white sauce....
These were a huge hit. Hubby, my nephew, the kids and I ate the whole pan. The salty bacon-y cheese, paired with the slightly sweet marinara...... manna from heaven.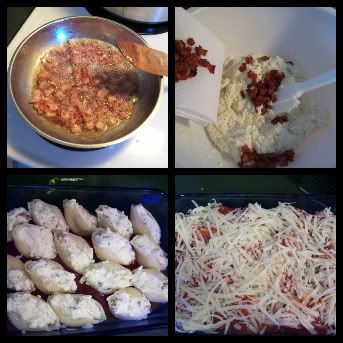 Cook bacon until crisp. Combine ricotta, egg, parmesan, 1 C mozzarella, salt, pepper, garlic powder and oregano in a bowl. Add bacon and mix well. Stuff shells and place in a baking dish, top with pasta sauce and remaining mozzarella. Cover with foil and bake at 350 degrees, for 45 minutes, uncover and bake for an additional 10 minutes. (Full recipe to follow)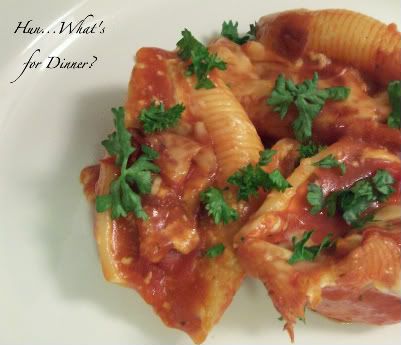 Triple Cheese and Bacon Stuffed Shells
1 large container ricotta (16oz)
1 egg
1 1/2 C shredded Mozzarella, divided
1/2 C Parmesan
1/2 tsp garlic powder
1/4 tsp oregano
salt and pepper
1/2 lb bacon, cooked and crumbled
half a box of large pasta shells
1 jar favorite pasta sauce
1 Tbs fresh parsley, chopped fine
In a large pot of water, boil pasta shells until just al dente. Drain and cool. While pasta is cooking, cook bacon in a large skillet over medium heat, until crisp. Remove from skillet, to a paper towel lined plate. In a medium bowl, combine ricotta with the egg, 1 C mozzarella, parmesan, salt, pepper, garlic powder and oregan. Mix well. Add in crumbled bacon and combine thouroughly.
Stuff cooled shells with bacon/cheese mixture. Place in a 9x13 baking dish and cover with pasta sauce. Sprinkle with remaining mozzarella and cover with foil. Bake in a 350 degree oven for 45 minutes, uncover, and bake for an additional 10 minutes. Remove from oven, let rest 10 minutes before serving and sprinkle with parsley.