I'm obsessed with recipes..... I mean when I see a recipe, I have to read it. It doesn't matter if it's in a magazine, the news paper, or on a coupon clipper page. Which is exactly where I found this recipe. On a Splenda coupon insert. Now knowing that you can interchange sugar and Splenda equally, I decided to make a more 'real' version of this cake. I don't like any type of artificial sweetener, even Splenda, which is suppose to be made from sugar. I'm from the
' use the real stuff, but in moderation'
school of thought. I figure, if I eat a well balanced, healthy diet, a bit of sugar here and there won't hurt.
I also made this for dinner guests, so I wanted a real decadent dessert. I kept the rest of the recipe as written, full of whole wheat flour and unsweetened apple sauce. This smelled so good, as it was baking. There's something about the smell of gingerbread that screams
Holidays
. The combination of ginger, cinnamon and cloves, remind me of the holidays, when I was growing up.
The cake turned out beautifully. Moist, with just the right amount of spice. I also made a brown sugar glaze for the top, so I decided to cut the sugar to 1C. Everyone went crazy for the cake, especially the kids. Now, I'm tempted to try making gingerbread cookies with them, for Christmas.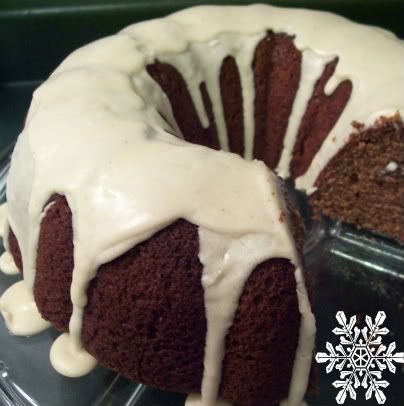 Gingerbread Cake
Adapted from Splenda coupon insert
2 C unsweetened apple sauce
3/4 C molasses
1/3 C vegetable oil
3 eggs
3 C flour
1 1/3 C Splenda, granulated
2 tsp baking soda
1 tsp baking powder
1/2 tsp salt
2 tsp ground ginger
1 1/2 tsp cinnamon
1/2 tsp ground cloves
Preheat oven to 350 degrees. Spry bundt pan with butter flavored cooking spray. Set aside. Pour apple sauce, molasses and vegetable oil into a large mixing bowl. Mix well. Add dry ingredients to the applesauce mixture. Stir well. Pour cake batter into prepared pan. Bake in preheated oven for 50 to 60 minutes, or until toothpick inserted in the center comes out clean. Remove from oven. Cool cake in pan on a wire rack approximately 20 minutes. Invert cake onto serving plate. Serve warm or cool.
Cindy's notes:
I subbed white sugar for the Splenda. Since I was topping the cake with a glaze, I reduced the amount of sugar to 1 C.
Brown Sugar Glaze

3 Tbs brown sugar
1 Tbs butter, softened
1/2 tsp vanilla
dash of ground clove
1 C powdered sugar
1-2 Tbs milk
In a bowl, mix the brown sugar with the butter, vanilla and cloves. Stir in powdered sugar and 1 Tbs milk. Stir with a whisk to ensure no lumps. If too thick, add up to 1 Tbs more of milk, until frosting is loose, but not too runny.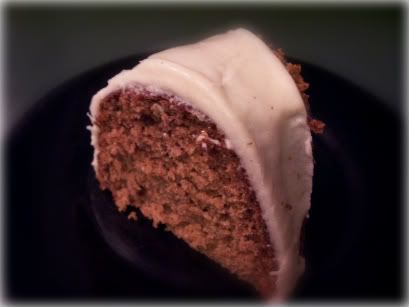 This post linked to