Hello... from under yet another pile of snow. Yes, more snow yesterday, which the kids loved, but I cursed while driving to buy milk. Which I forgot to buy, by the way, since it hadn't written it on the list. So, I vehemently informed Hubby, I was not returning to get it. I love snow, just not driving in it.
This is Mr.B's last week of school, until January 3rd. He told me last night, while I was tucking him in, that he'd rather go to school, then have Christmas holidays. I'm hoping his love for learning continues on with him, as he gets older.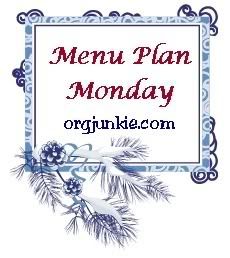 I had a hard time planning my menu this week. I think I'm just burnt out, with thinking of all the Christmas baking I have to do, what to serve for our little Christmas dinner and what to serve for our big post Christmas, Christmas dinner, with Hubby's family. With a little inspiration from the grocery fliers, this is what I came up with. In no particular order
Don't forget to head over to OrgJunkie.com, for tons of other great meal plans, this week.