Happy week before Christmas!! Are you ready?? I'm not, LOL. I have a bit more shopping to do today, then it's wrapping time. Hubby and I have always been last minute shoppers and wrappers.....
I also have a bit more baking to do. I'm hoping to be able to make all that has been requested. I'm so excited, since I think Christmas is my favorite food holiday. All the yummy treats and sweets..... hopefully my waistline doesn't rebel, LOL.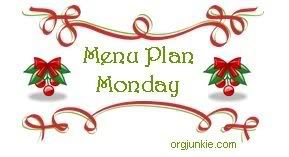 This week's menu will be nothing extravagant.... I'm sticking to quick meals, so I can focus on baking and prepping for Saturday. We will be having a small Christmas, just us (Hubby, Mr.B, Queenie, my nephew and me). The next week, Hubby's family will be arriving for a Family dinner. So here's what's for eats this week (in no particular order)
Indian Tacos, tortilla chips and salsa
Chicken Tortilla Soup
Sweet and sour pork chops with roast potatoes and carrots
breakfast- Santa pancakes and fruit salad
Ham, mashed potatoes, Tourtiere/meat pie, rolls, broccoli with cheese sauce and Buche de Noel/Yule Log Cake (Christmas Dinner)
Leftovers
Head on over to OrgJunkie.com, for other great meal plans, for the week.