Merry Christmas!! We had such a great Christmas, just our little family. At first I was bummed that we were spending Christmas home alone, but the kid's excitement eventually won me over. Surprisingly, they slept in Christmas day. They were both happy with everything Santa brought, but I think their favorites so far are the Zhu Zhu pets. They are so stinkin' cute!!
This week will be somewhat hectic. We are celebrating Christmas with some of Hubby's family today. His Mom, sister and uncle are coming for dinner and to spend the night. So, more gift opening and pigging out, LOL. Wednesday is my birthday and I'm hoping to go to my favorite Chinese Buffet for dinner (now that I can finally eat Chinese again). Thursday one of my BFFs is coming over for dinner and we plan to take the kids sledding. So, I'm hoping the week goes by quickly, with all our excitement.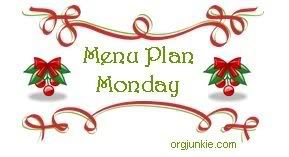 You'd think with all these celebrations and guests I'd be in the cooking mood, but I had a rather difficult time making my menu this week. I think I'm burnt out.... I hope it won't last long. Thank goodness Hubby is cooking tonight!
Monday- a very eclectic menu of turkey, bacon/sage stuffing, lobster/shrimp Alfredo pasta, Cheeseburger soup, ribs and tomato mozzarella salad
Tuesday- most likely leftovers from Monday
Wednesday- I'm hoping Chinese Buffet, if not I'm requesting Chicken and Dumplings
Thursday- Pasta Fagioli Soup with homemade bread
Friday- Turkey Spaghetti with a salad
Saturday- bacon, eggs, toast and fruit
Sunday- Salmon Patties , oven roast potatoes and corn on the cob
Don't forget to pop over to OrgJunkie.com, for other great weekly meal plans.