Happy Monday!! Well, we seem to have gotten all winter's snow in one day. I swear, it snowed about 2 feet of snow, yesterday. The kids loved it, but me not so much, since I had to clear the driveway, so Hubby would be able to pull in. I knew our snow free month of November was nothing but bad news, LOL.
There's quite a bit going on this week. It's my nephew's 22nd birthday today. He has requested a chocolate orange cake, so Hubby and I will be working on that. Then, Hubby has another cake order due Thursday, for a double birthday; and it's a long school week too. So, we'll be busy little bees..... hopefully I can get some more Christmas baking done as well. So, here is our menu for the week, pretty good considering I'm using freezer, pantry and fridge items.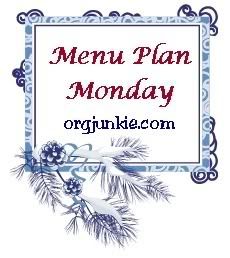 Spaghetti and Meatballs with garlic bread and salad
Ribs, baked beans (canned), coleslaw and sweet potato fries
Bacon pasta with peas
Salmon Patties, with roast potatoes and carrots/rutabaga puree
Homemade pizza, with roast cauliflower and steamed broccoli
Leftovers
Head on over to OrgJunkie.com, for tons of other great meal plans, for the week.