There's nothing more soul soothing than a hot bowl of soup. I'd have to say that this is one of my favorites. Anytime we go to Tim Horton's (Canadian Coffee Shop) and I see this soup, I buy a bowl. I've never really found a recipe that I liked, as much as Tim's version
(which is sadly probably made from a packet, LOL)
. I found this recipe in a Taste of Home magazine, which I bought a few months ago.
I must say that I am shamelessly becoming a food mag addict....
The soup was wonderful. I'm actually getting really hungry, just thinking about it. I really enjoyed the addition of potatoes; it made the soup a bit heartier. I wasn't sure if the kids would enjoy it, but with a sprinkle of Parmesan before serving, it was gobbled up with enthusiasm. As was the rest of the pot, since I had to be disappointed by finding the empty pot in the sink, in the morning.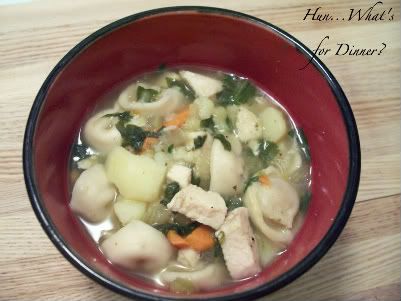 Spinach Tortellini Soup

Adapted from Taste of Home magazine
3 small red potatoes, peeled and cubed
2 medium carrots, sliced
1 celery rib, chopped
1 small onion, chopped
2 tablespoons plus 1-1/2 teaspoons chicken bouillon granules
2 quarts water
3 cups cubed cooked chicken
1 package (10 ounces) frozen chopped spinach, thawed and squeezed dry
1 teaspoon dried parsley flakes
1/2 teaspoon garlic powder
1/2 teaspoon dried oregano
1/2 teaspoon pepper
1/4 teaspoon salt
2 packages (9 ounces each) refrigerated cheese tortellini
In a Dutch oven, combine the potatoes, carrots, celery, onion,
bouillon and water. Bring to a boil. Reduce heat; cover and simmer
for 10 minutes.
Stir in the chicken, spinach, parsley, garlic powder, oregano and
pepper and salt; return to a boil. Add tortellini; cook, uncovered,
for 7-9 minutes or until tortellini is tender.
Yield: 10 servings
(3-3/4 quarts).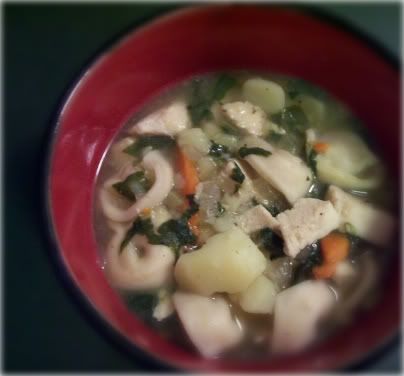 This post linked to