My nephew introduced me to this recipe. He loves yam
(for some reason we say yam, here in Canada)
, or sweet potato fries. Since he is now living with us and I've been wanting to eat healthier, I decided to give them a try. I'm not very big on sweet potatoes.....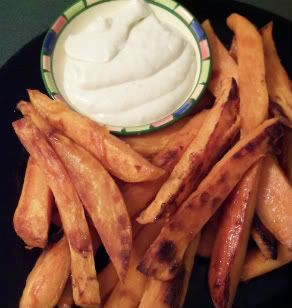 I have to say that these are really good. Since making them the first time, I think we've had them 3-4 times. I love the spice paired with the sweet tender potato. I over heard Hubby saying they serve their sweet potato fries, with spicy mayonnaise, at work. So, I thought why not mix horseradish with mayonnaise. It worked perfectly. It cuts the sweetness just a touch, by adding a bit of tartness. Depending on your heat preference, you can play around with the amount of horseradish you add in.
Sweet and Spicy Yam Fries
2 C yams/sweet potatoes, cut into fries
2 Tbs maple syrup
4 tsp olive oil
1/8-1/4 tsp cayenne pepper
Preheat oven to 400 degrees. Combine ingredients and arrange on a baking sheet, lined with tin foil and sprayed with cooking spray. Bake for 15-25 minutes, depending on thickness of fries, flipping ever five minutes.
Horseradish Mayonnaise
1/4 C Miracle Whip
1-2 tsp prepared horseradish
Combine together in a small bowl. Serve with fries for dipping or spread on roast beef sandwiches.