Let's take a break from all the sweets and have something savory for a change....
Hubby made this the other night, after I saw a similar recipe, in a grocery magazine. I'm always trying to find new ways to serve zucchini, since the kids aren't very fond of it sauteed with garlic. They somewhat enjoyed this one. They did eat the filling, but left the zucchini boats there, LOL. I really enjoyed the contrast of soft somewhat sweet filling, with the slightly crunchy zucchini. These looked super elegant, but really were a breeze to whip together (well for Hubby anyway).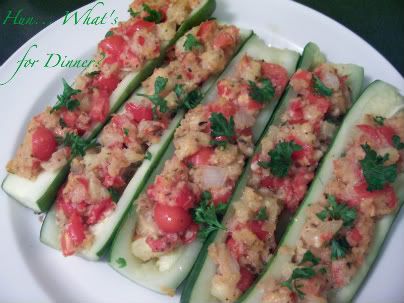 Tomato and Cheese Stuffed
2 zucchini, each about 8 inches long
1/2 tsp garlic powder
1 Tbs olive oil
1/2 small onion, diced
1 Roma tomato, seeded and diced
1/2 tsp each salt and pepper
1 tsp chopped fresh oregano (1/2 tsp dry)
1/2 tsp chopped fresh thyme (1/4 tsp dry)
1/3 C grated Old Cheddar cheese
Preheat oven to 350 degrees. Trim ends and cut zucchini in half, lengthwise. Using a spoon or melon baller, scoop out seeds to make a trench. Chop seeds and pulp. Place zucchini halves on a parchment paper lined baking sheet and sprinkle with garlic powder; set aside.
Heat oil in a skillet set on med-high. Add onion and saute until translucent. Stir in chopped zucchini, tomato, salt and pepper. Cook a few minutes then add the fresh herbs. (if using dry herbs, add with zucchini).
Spoon mixture evenly into zucchini halves and sprinkle cheese on top. Bake 20 minutes, until cheese is bubbling and brown around the edges.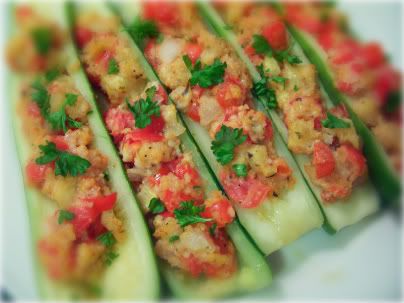 This post linked to