Before you say anything..... I know,
ANOTHER
Rachael Ray recipe. What can I say?? So far, I've it home runs with her recipes and this one was quick and used everyday ingredients. I originally planned on making a different RR recipe, but Hubby used up all the Parmesan and
(of course)
didn't tell me....
I must say that this is probably the best RR recipe I've made, so far. This was really delicious. The sauce was lemony and sweet (due to the tomatoes), but then you had the much needed bursts, of briny saltiness, from the capers. This recipe literally takes the amount of time it takes, for the pasta to cook.
(Did that even make sense, LOL)
Mr.B really liked it, since I made sure to pick the capers out of his serving. Queenie; well, she isn't really into pasta lately.... I had to refrain from having a second helping, because my first one was pretty big. I did omit the olives though, since I didn't have any, and I knew the kids wouldn't care for them. I also only used one generous pinch of red pepper flakes, since the kiddos still aren't fond of overly spicy dishes. All in all, this one is a keeper.
(sorry about the pictures. my camera is still broken, so I'm using my cell phone, which doesn't work well in our bad kitchen lighting, LOL)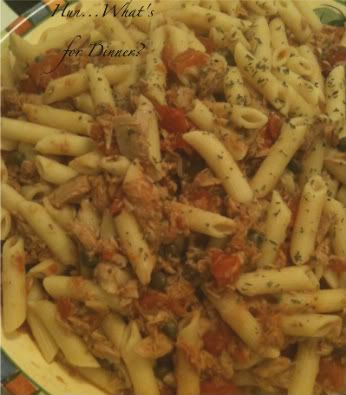 Tuna Pasta Puttanesca
Adapted from Rachael Ray's Just in Time cookbook
Salt
1 pound penne pasta
3 tablespoons extra virgin olive oil (EVOO)
2 cans Italian tuna in oil or water , drained well (5-6 ounces each)
6 large cloves garlic, finely chopped
1/2-1 teaspoon crushed red pepper flakes
A generous handful of black olives (Gaeta, kalamata or oil-cured), pitted and chopped
3 tablespoons capers, drained
1/3 cup white vermouth or 1/2 cup dry white wine (eyeball it)
1 can whole or diced tomatoes, such as San Marzano (28 ounces)
A generous handful of fresh flat leaf parsley, chopped
2 teaspoons lemon zest
Fresh ground black pepper
Crusty bread
PreparationPlace a large pot of water over high heat and bring up to a boil. Salt the water and cook penne to al dente.
Meanwhile, heat a large skillet with three turns of the pan EVOO over medium heat. Add the garlic and red pepper flakes, cook a minute or two, then add tuna and break it up with your spoon. Add olives and capers, cook a minute or two more, then add vermouth or white wine; stir and cook down a minute.
If using whole tomatoes, place a colander over a bowl, crush up the tomatoes with a wooden spoon, then add the tomatoes and their juice to pan. Otherwise, stir in diced tomatoes and juice. Add the parsley, lemon zest and black pepper, then simmer the sauce a couple of minutes more.
Add a couple of ladles of starchy pasta-cooking water to the sauce. Drain the pasta, add to the skillet and toss to coat. Serve with some nice crusty bread.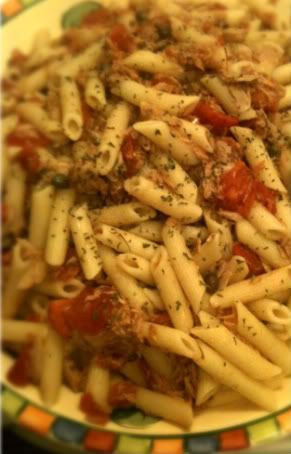 This recipe linked to
Saturdays with Rachael Ray
Saturday Night Special
Cookbook Sundays
Recipe Swap Sundays
Potluck Sunday