First off, I just want to say how excited I am about having 50 followers! Thanks to everyone who takes the time, to read my ramblings, LOL.
Last week was hot. As much as I love the summer, I'm not too thrilled with cooking during the summer. I guess I'll have to suck it up and make do. This week should be fairly quiet and I'm hoping the weather co operates, so we can attend a local Medieval Festival. With the warm weather, we will be grilling most nights, so the menu is nothing extravagant. Keep an eye out for Bronco Burgers, from last week, in the next few days. So in no particular order, here is our menu for the week.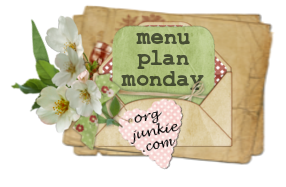 Grilled Pork Slouvaki with Tzatzikki and Mediterranean Pasta salad
Hot dogs and Brats (grill) with coleslaw and baked beans (Heinz)
Grilled Pork Tenderloin with grilled veggies and salad
Grilled Steaks with tomato mozzarella salad, spinach dip, chips and veggie sticks
Burgers (grill) with grilled veggies and coleslaw
Leftovers
As always, head on over to OrgJunkie, for tons of other great meal plans for the week.