I have awful luck picking produce I am not familiar with. Items such as mangos, or avocado. I know how to pick them, but it seems like the cosmos are against me and they ripen questionably fast, or start rotting from the inside. In the case of my avocado, it ripened in the blink of an eye and I desperately needed to use it, refusing to throw it away. So I searched over at Cooking for your Family and found a pork chop recipe, that had an avocado/tomato relish. I quickly modified my menu to fit this in. I'm pretty glad I did, since I really enjoyed the chops. They were tender and I really enjoyed the tangy-ness of the lemon pepper and ranch dressing, with the buttery avocado and fresh tomato. The only change I did was use marble Cheddar, instead of Jack cheese, since we didn't have any. The kids enjoyed their dinner, but I did serve them all the components separately. It was iffy with the avocado. Queenie loved it, while Mr.B was unsure if he liked the texture or not. I did use baguette (from the previous post), so I had to cut the chops, to fit the bread. All in all it was a good dinner!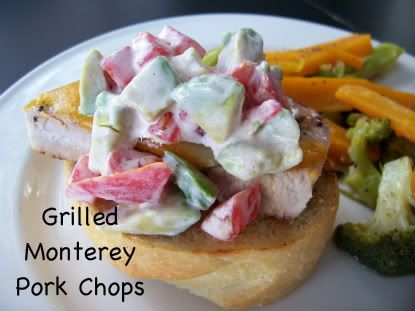 Grilled Monterey Pork Chops
Submitted by Sandy
RELISH
1 small tomato, seeded, chopped
1/2 small avocado, seeded, peeled, chopped
1 T ranch salad dressing
PORK CHOPS
1 tsp lemon pepper
1 tsp dried basil leaves, crushed
4 (1/2-inch thick) boneless pork loin chops
BREAD
4 slices (1/2-inch thick) French bread
4 tsp butter, softened
1/8 tsp garlic powder
4 (3/4-ounce) slices Monterey Jack cheese
1. Prepare grill; heat until coals are white.
2. Combine all relish ingredients in small bowl; mix lightly. Cover; refrigerate until serving time.
3. Combine lemon pepper and basil in small bowl. Rub both sides of pork chops with seasoning mixture. Combine butter and garlic powder. Spread 1 side of bread slices with garlic butter.
4. Place chops on grill. Grill, turning once, until desired doneness (10 to 12 minutes). Top each chop with 1 slice cheese. Meanwhile, place bread slices on grill to toast. Grill bread until it is toasted and continue grilling pork chops until cheese melts (1 to 2 minutes).
5. To serve, place chops on top of grilled bread; top with relish.