Happy Monday! The weekend just flew by, which is funny, considering we didn't do much. Now that November is coming to an end, I need to start thinking about Christmas. What to bake, what to serve for Christmas dinner, what gifts to make.... it's coming up quick.
Our menus for the next two weeks will not be too impressive. Our SUV decided to die out on us and a costly repair is in our near future.
(Just found out that my camera is broken as well...sigh)
So, my goal was to make my menu for the next two weeks, using mostly pantry and freezer items. I did buy fresh produce and such, but we will be depending on our well stocked freezer and pantry to help ease the burden of car repairs. I hate that this is happening so close to Christmas, but what can we do?? It could be much worse....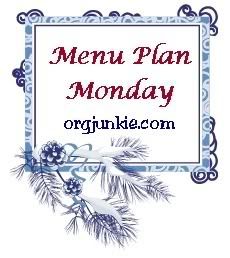 So here is our menu for this week.
Fish (homemade battered Cod) and Chips, with corn on the cob
Meat tortellini with Alfredo Sauce and a salad
Tuna Casserole with canned green beans (for the kids) and asparagus
Tacos, with chips and salsa
Pork Tenderloin with Smashed Cheddar Potatoes and broccoli with cheese sauce
Chicken Parm Soup (new recipe) with Italian Bread
Ricotta Pasta with Tomatoes Al Forno (new recipe), Butternut parmesan and bread sticks
Don't forget to head over to OrgJunkie.com, to check out other great meal plans, for the week.