I created this last week, when I was looking for different ways to make rice. Since I was making Parmesan Shrimp, I thought, why not try some Parmesan rice. After looking through the fridge and pantry; and seeing what I had on hand, I went to work.
This turned out so wonderfully. The nutty gooey Parmesan, dotted through the tender rice. I really loved this, as did the kids and my nephew. Sadly, we ate it all and Hubby wasn't able to try it, but did say it was a good idea. I mean how could anything with Parmesan taste bad, right?? I served my peas to the side, since Hubby and my nephew don't care for them. They'd be equally good mixed right in with the rice and baked all together. Some nice fresh chopped parsley mixed in would be wonderful too. I'm so glad I found a new way to jazz up boring ole rice!
Baked Parmesan Rice
4 Tbs butter
1/2 an onion, minced
1 clove garlic, minced
2/3 C rice
2 C chicken broth
1/2 C Parmesan
salt and pepper
In a large skillet, heat butter until sizzling. Add onion and garlic and cook until onions soften, about 3 minutes. Add rice and saute until golden brown. Stir in chicken broth, Parmesan, salt and pepper. Transfer to a 2 quart baking dish or casserole. Cover and bake at 350, for 50 minutes, stirring after 30 mintues. (makes 4 servings)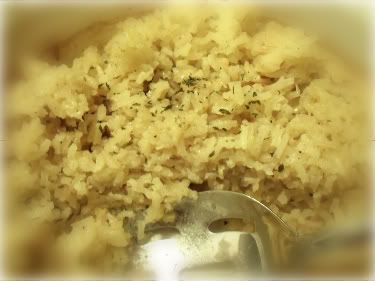 Don't forget there is still time to enter my 100 Followers Giveaway!!
**GIVEAWAY IS NOW CLOSED**
This post linked to