This is our favorite way to eat roast chicken. I use this method any time I roast chicken; be it for dinner, for chicken salad, or casseroles. I saw Ina Garten roast her chicken breast on a cooling rack, on an episode of Barefoot Contessa and ever since then, this is how I do it. I find the chicken breasts are so much juicier and not as greasy as just baking them in a dish.
Over the past year, I've been cooking with rosemary more often. When I first tried rosemary, I wasn't a big fan. I really didn't appreciate the woody pungent flavor of it. It reminded me of pine trees and in my mind, you should eat trees, LOL. But lately, I've tried various dishes that include rosemary and have loved them all. Which is how I came about this recipe. I often hear of rosemary chicken, so I thought I'd throw some of our favorite spices together and see what I came up with. The result was perfect. Even my picky children cannot resist this wonderful flavorful chicken. When I'm looking to make something I know they'll eat for sure this is my go to recipe. I also use this recipe on chicken legs, cooking them along with baby red potatoes, so the potatoes can absorb the wonderful chicken flavor.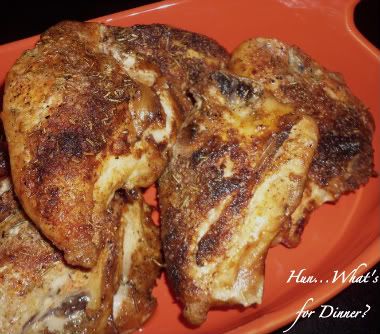 Family Favorite Roast Chicken
4-6 chicken breasts (bone in, with skin)
1 Tbs coarse sea salt
1 Tbs rosemary
1/2 tsp garlic powder
1/4 tsp paprika
fresh cracked pepper (6 turns of the pepper mill)
olive oil
Preheat oven to 400 degrees. Place chicken onto cooling racks, placed into rimmed baking sheets. Drizzle chicken with olive oil. In a small bowl combine salt, rosemary, garlic powder, paprika and pepper. Sprinkle chicken evenly with seasoning blend. Roast at 400 degrees for 20 minutes. Reduce temperature to 325 degrees and roast for an additional 10-20 minutes, until internal temperature reaches 165 degrees.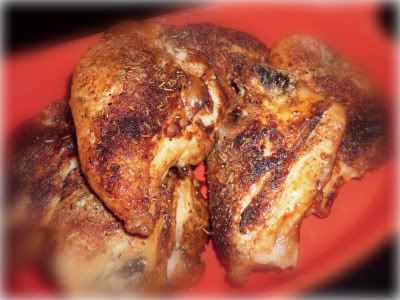 this post linked to