Beans happen to be one of my favorite foods. The creaminess that can be seasoned in a variety of ways. My Mom often made baked beans, when I was growing up. It wasn't until I moved out on my own, that I've ventured out and tried different kinds, made in different ways. As a result, I can never turn down a bowl of soup, that has beans in it. I guess combining two of my great food loves, gets me every time. So when I saw this soup, on the cover of Canadian Living Magazine, I knew the magazine was coming home with me and that the soup would soon grace our table.
Once I read the recipe and saw that it contained sausage, I was a little disappointed. I don't like sausage. I'll eat the occasional breakfast link, here or there, but that's about it. I find them too gristle-y and don't enjoy eating them. But, I was willing to put my dislike of sausage aside and make this soup.
I didn't have to eat the sausage right?? Just make sure my bowl was sausage free. More for the next guy, whom I'm sure wouldn't complain.

Well, Hubby ended up making this soup. It was shortly after I had injured my foot/ankle and I had been on my feet all day, so it was pretty painful. You should have heard us in the kitchen.
"You have to make the soup, exactly like the recipe says, OK?"
"What do you mean, exactly like the recipe says? Can't I just make some soup?"
"Well yeah, make soup, but try to follow the recipe. I know it's hard, since your a Chef, but just do it, OK?!"
"What was that green stuff you added? The recipe didn't call for any green herbs."
(At that point, I was not so nicely told to exit the kitchen and go rest my foot, LOL)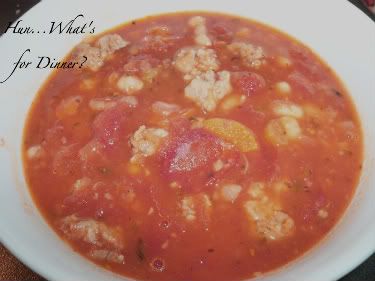 It was a really good soup, even with the sausage, LOL. And yes, I did have a few bites of sausage, so I could get the whole experience. The soup was mildly spicy, but it was more of an after taste. I loved the tomato-y broth with the creamy salty beans. This is definitely a great hearty cold weather soup.
Hearty Tomato Sausage and Bean Soup

Adapted from Canadian Living Magazine
4 tsp vegetable oil
1 onion, finely chopped
2 cloves garlic, minced
1 each carrot and rib celery, finely chopped
1 hot green chili (optional)
1/4 tsp each salt and pepper
2 Italian sausages (8 oz total) casings removed
2 cans whole tomatoes
1 can navy beans, drained and rinsed
1 C each chicken broth and water
1/3 C fresh chopped oregano
1 tsp sugar
In Dutch oven, heat oil over medium heat; cook onion, carrot, celery, garlic, chili pepper (if using), salt and pepper, stirring occasionally, until softened, about 6 minutes.
Increase heat to med-high; add sausages and saute for 5 minutes, breaking them up with a spoon.
Stir in tomatoes, breaking up with a spoon. Add beans, chicken broth, water, oregano and sugar; bring it to a boil. Reduce heat and simmer 15-20 minutes. Discard hot pepper.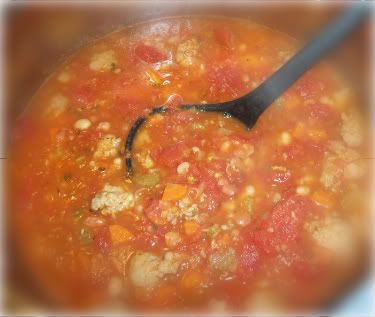 This post linked to