**GIVEAWAY IS NOW CLOSED**
Happy Monday. Boy, last week was exhausting! Even with Hubby home and able to help out. We've been trying to cut down on TV time, so it's been trying hearing the kids argue over what to play, how to play and being bored. I still haven't heard from my Dr. about my foot, so I'm guessing it's a soft tissue injury. It is still very bothersome, especially after a long day in the kitchen.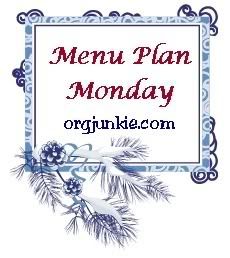 Since we got our weeks mixed up and missed our bi-weekly grocery shop, our budget is only allowing for fresh produce and milk this week. So, I'll be using doing some freezer and pantry cooking. Here is what I came up with
Braised Chicken and Potatoes (brought over from last week)
Asian Meatballs(new recipe) with rice and vegetables
Tourtière, ragout de pates de cochon( pork hock ragu) with rice potatoes and honey thyme squash
Black bean smothered sweet potatoes (new recipe) and salad
Oven baked Pork Chops with mashed potatoes and pepper squash
Meat and Potato Burgers (new recipe) with steamed broccoli
Leftovers
Make sure to head over to OrgJunkie.com, for tons of other great meal plans for the week. Happy Cooking!!
~~~~~~~~~~~~~~~~~~~~~~~~~~~~~~~~~~~~~~~~~~~~~~~~~~~~~~~~
Now onto the giveaway!! When I first started this blog, it was really just a way to keep track of recipes I had tried and whether or not we enjoyed them. A small part of me was expecting this thing to go off like a rocket and after the first year and so few followers, I was unsure if I even wanted to go on. I decided followers weren't that important, though seeing new ones brings a smile to my face. I told myself that if I ever reached 100 followers, I would have a giveaway. Well, I reached 100 followers last night!! So, here is what I have for one lucky follower, as a way of saying Thank you for deciding my ramblings are worth reading. The prize consists of
1-10 inch square tempered glass, Vakentine's themed, serving plate
1 Meal Plan Menu pad with magnetic back
1 pack of 20 super cute recipe cards
1 small picnic basket porcelin collectible box

See the cute little picnic basket? Well, it has the cutest little surprise inside.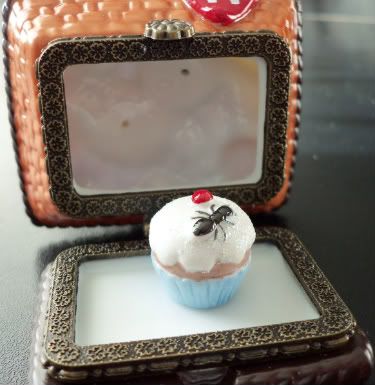 A tiny cupcake! Isn't that the cutest??


All you have to do to enter, is leave a comment telling me you follow Hun...What's for Dinner? (Please include an email address, so I can reach youif you win) Super easy! Giveaway will end Sunday Jan 23 at 10 pm. The winner will then be announced Monday morning. Good luck to everyone!!